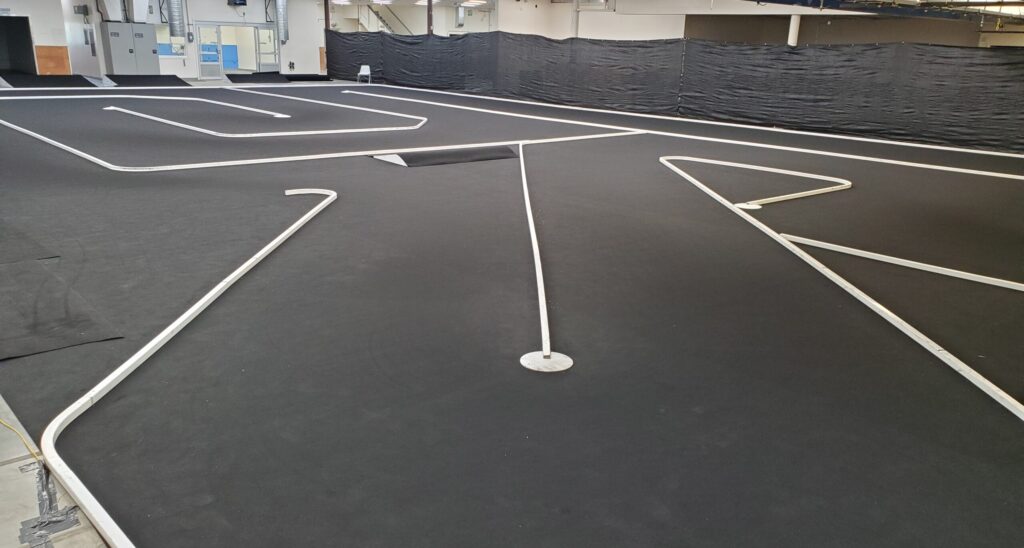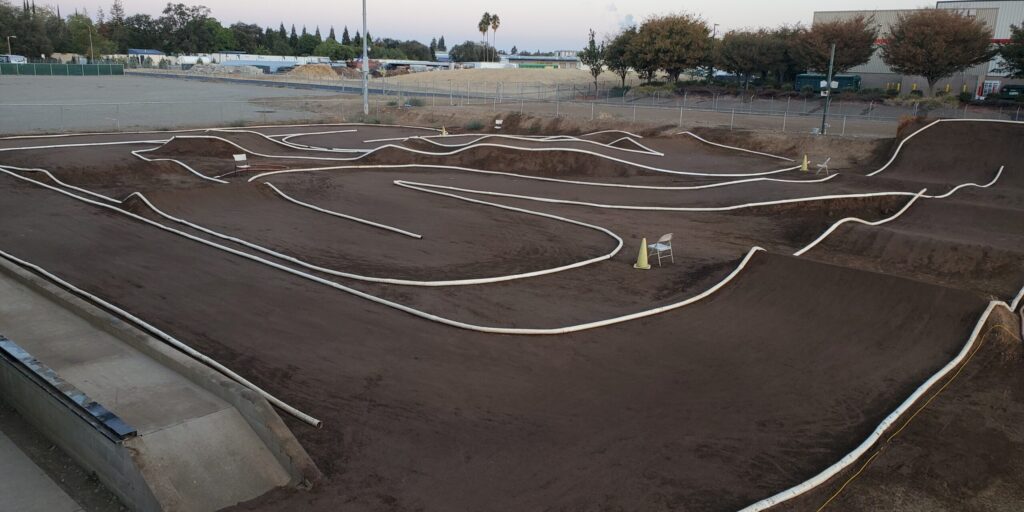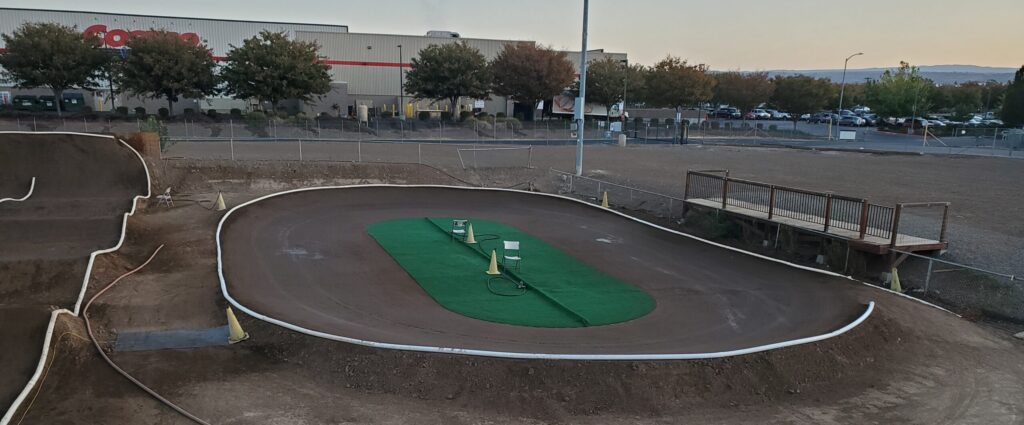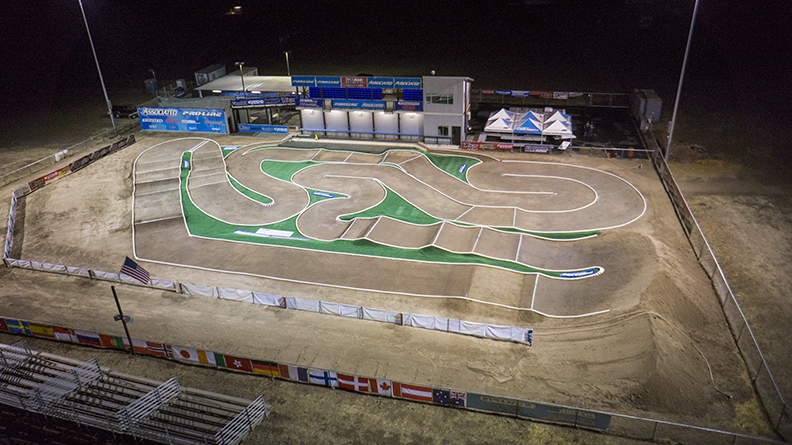 Silver Dollar R/C Raceway Outdoor Dirt Track
101 Silver Dollar Way
Chico, California 95928
Silver Dollar R/C Indoor Carpet Offroad Onroad
Be sure to visit our Facebook page: https://www.facebook.com/groups/1555066778074330
Silver Dollar R/C Raceway is excited to announce the addition of our indoor carpet racing facility! Located only a mile from the World Famous outdoor facility, the new 100'x60′ track features high traction black CRC carpet. Heated or air conditioned pits depending on the weather outside, means you always be comfortable. With tables and chairs already provided, and of course power for all of your charging applications. Whether it is off road or on road, the large carpet track will have an abundance of traction and flexibility of running Offroad and Onroad with moveable portable jumps.
The outdoor facility situated on the famous Silver Dollar Fairgrounds, AMainhobbies.com's Silver Dollar R/C Raceway was built to be the ultimate indoor carpet and dirt off-road R/C racing venue. It has successfully completed the 2013 IFMAR Electric Off-Road World Championships , 2015 ROAR Fuel 1/8th Offroad Nationals and 2017 AMainhobbies Manufacturers Cup. Each part of the facility was designed with both the racer and spectator in mind, with a comfortable pit area and bleacher seating for race fans. From its professionally engineered stadium lighting system, massive drivers' stand with integrated tech and scoring booths, and an expertly manicured track surface, Silver Dollar R/C Raceway is a destination worthy of a spot on every RC racer's bucket list.
The 12-foot high, 55-foot long with covered driver's stand can accommodate up to 15 drivers, and allows enthusiasts to view every inch of the impeccably groomed 150'×110' Dirt and 100'x60′ carpet racing surface.  There is an ADA compliant ramp that allows easy wheelchair access to the top of the drivers' stand. The absolute best, local dirt AMainhobbies.com could find  was chosen for "blue groove" conditions when dry, yet providing a great traction surface with no tire wear when watered. The versatile soil combined with technical, yet flowing layouts provide a high-speed rush, with technical features that will test the skill of your trigger finger and your setup. The mechanics area features an elevated pit lane, shelving for tools and ample space for the mechanics themselves, providing room to wrench when things go bad. An incredible Musco lighting system keeps all the shadows off the track and the incredible PA system guarantees you will hear every word that is spoken in the timing booth.
The rest of the facility is just as impressive, with 48 permanent covered and 28 indoor pit spaces, each with a 3×5′ pit table and 110AC power. There is room for up to 170 additional racers in the paved and powered overflow pit area. A large wash station with water and compressed air is on hand to keep your gear clean, and a portable hand wash station is close by to keep your hands clean. Elevated seating provides a birds eye view for up to 900 spectators, as well as room for video broadcasting or other media coverage, while the room around the perimeter of the track lets you setup a BBQ, EZ up and chairs, so you can kick back with a cold one and enjoy the race.
Finally, Silver Dollar R/C offers one thing that cannot be matched by any other racing facility….AMainhobbies.com! An AMainhobbies.com retail store is located within walking distance across the street from the track, with the 40,000+ square foot warehouse/headquarters nearby, providing racers quick click access to over 50,000 R/C products. Replacement, option and boutique brand parts are no more than a click away, and can be ***ordered online and delivered to the retail store for in store pickup***, whichever works best for you. This not only makes Silver Dollar R/C a world-class facility capable of hosting world-class events, but also a facility with the potential to breed world champions.
Track Details:
Silver Dollar RC Raceway is 150 x 110' outdoor high-quality dirt and 100′ x 60′ carpet  racing surface.
12' high covered drivers stand large enough to accommodate 30 drivers with true ADA accessibility at Silver Dollar RC Raceway.
76 permanent 4'x2' pit spaces, 28 of which are climate controlled at Silver Dollar RC Raceway.
5,000+ sq. ft. of available space for overflow pitting for Silver Dollar RC Raceway for large events.
Pit space for 165+ drivers with table, chair, light and power.
AMB RC4 scoring hardware with LiveTime race management software.
Professional catering on site.
Free trackside Wi-Fi internet access.
Hotels and restaurants within 1.5 miles of the facility.
Largest accessible parts inventory for racers available at AMain Performance Hobbies warehouse.
Plenty of parking and free overnight RV parking (no hookups).
LiveRC broadcast of all races http://amainsdrc.liverc.com/live/
Retrievable video footage of all races via LiveRC https://www.youtube.com/user/LiveRCvideos/playlists
For more information about Silver Dollar RC Raceway, please visit http://tracks.amainhobbies.com/silver-dollar-rc-raceway/
The facility has had three VRC-PRO layouts created as listed below:
Drivers Stand and closer shot of track