2019 Tekin RC Gold Cup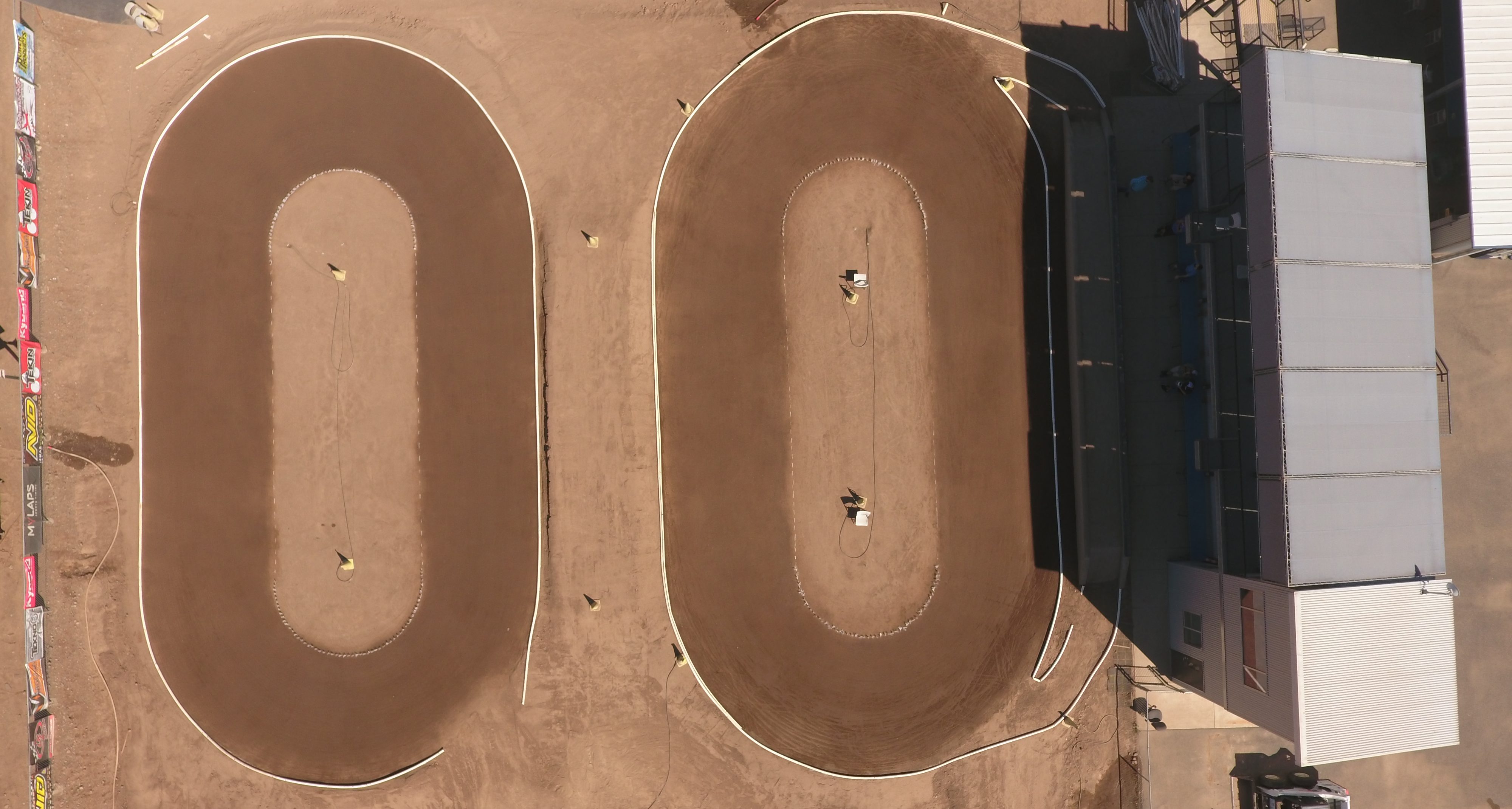 Over the weekend of Sept 5-7th, 100 entries from all over Northern California, The East Coast, Nevada, Oregon, Washington,and Arizona converged on the Silver Dollar RC Raceway Raceway, located in Chico, CA to battle in 10 different divisions at this years 2019 Tekin RC Gold Cup.
AMain Hobbies and Scotty Ernst were proud to bring you, the oval racer, the 2019 Tekin RC Gold Cup— a premier oval race like no other. Two identical banked ovals were installed—one for all of the racing action and a second track,  for practice, testing and tuning. Scotty provided informative race announcing while the AMain Hobbies crew blew and watered the track after every race. The September weather was nice with daytime highs in the high 80's to low 90's.
What really makes the race special is the dates for the RC Gold Cup were chosen to coincide with the World Of Outlaws NOS Energy Drink Series Sprint Cars Gold Cup Race of Champions held at the same Silver Dollar Fairgrounds. Participants were able to get their RC oval fix in during the day and got to hang out with their friends in the evenings while they watched the world's best sprint car racers race on the real Silver Dollar Raceway.

After one packed day of practice, 2 days of qualifying, 1 day of mains , 77 qualifying heats, 18 main events, 100 entries and 2 days of action on the track, the 2019 edition of the Tekin RC Gold Cup is now in the books, and what a weekend of racing it was. Racers started to show up as early as 9:00 a.m. on Thursday morning to get their first laps on the two identical shaped ovals and practice would end  Thursday night at 6pm. The oval was fast, fun, racy and consisted of two slightly different banks from each side of the track.  The two ovals was a hit with all the racers. The ovals combined with very consistent surface, great weather and moisture conditions made for some of the best Oval racing action we've seen Silver Dollar RC Raceway.
Friday would consist of a full day of qualifying with 3 rounds from 10 am to 5pm with a morning practice session allowing racers to get the track grooved in and setups dialed in for qualifying.  Drivers would spend the day hard at work figuring out the best lines and setups in hopes of making one of Saturday's A finals. The track was super fast and racey seeing lap times in the low 5 second lap times. The day would wrap up at 5pm with time for the racers to work on their cars and then go watch the World Of Outlaw races at night.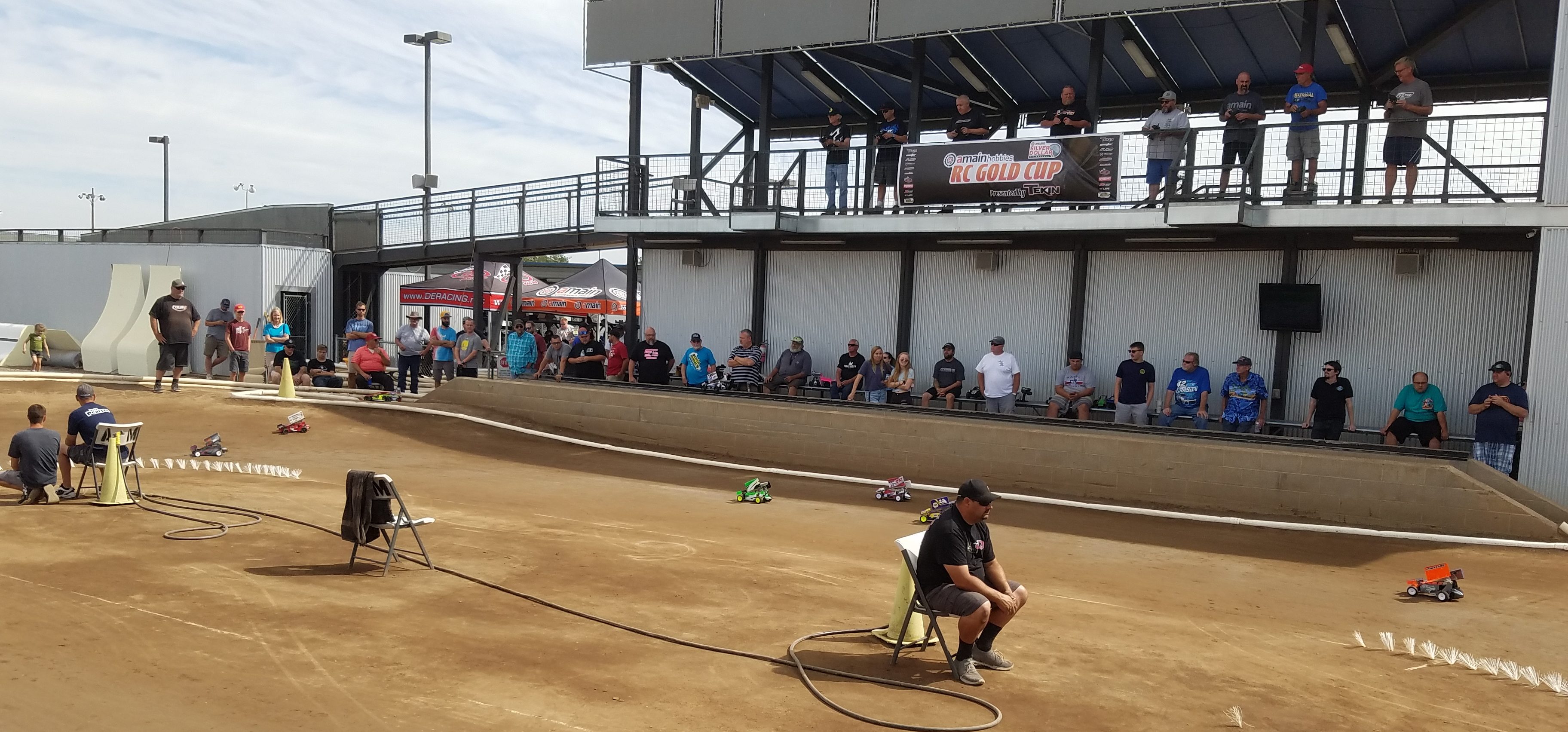 Saturday morning came early with doors opening at 8am.  Race director Scotty Ernst at 9:30am would kick off 2 rounds of qualifying with great informative announcing allowing the racers to put down fair qualifying using the IFMAR live loop start process. Racers would work together in this format to put an effort at their one best runs out of two to seed them into their main events just like on Friday. Qualifying would go on all day till two rounds where complete and this would start the main events.
Main events started early mid Saturday afternoon and now the amazing race announcing of Scotty Ernst would really be heard. Scotty would observe most of the main events to ensure clean, exciting racing would take place . Racers would do an amazing job of policing themselves when incidents would happen and this made for some of the cleanest and best main races seen to date at Silver Dollar RC raceway. Some exciting finishes and lots of last lap passes would go down keeping the spectators entertained all day. Mains would finish up late afternoon and the awards presentation would take place with photos of top threes and TQs in typical Amain Hobbies fashion.
Needless to say the race was such a success that racers are already planning on coming year for the second annual race. Thanks to everyone who attended and made this such a fun race and good time to get together the competitive Oval racing community. See you all next year
Your every main event PDF File can be downloaded here: 2019 Tekin RC Gold Cup RoundResult-Round7
link: https://www.amaintracks.com/wp-content/uploads/2019/09/2019-Tekin-RC-Gold-Cup-RoundResult-Round7.pdf
Your final overall standings can be downloaded here: 2019 Tekin RC Gold Cup FinalStandings
link: https://www.amaintracks.com/wp-content/uploads/2019/09/2019-Tekin-RC-Gold-Cup-FinalStandings.pdf
The link to your race results and videos can be found here: http://amainsdrc.liverc.com/results/?p=view_event&id=312252
Photos and Videos
SC Modified :
Main event video can be found here: https://youtu.be/j7tWv91KD3o
1st: Jimmy Johnson (TQ)
2nd: Silky Johnson
3rd: Jason Thurn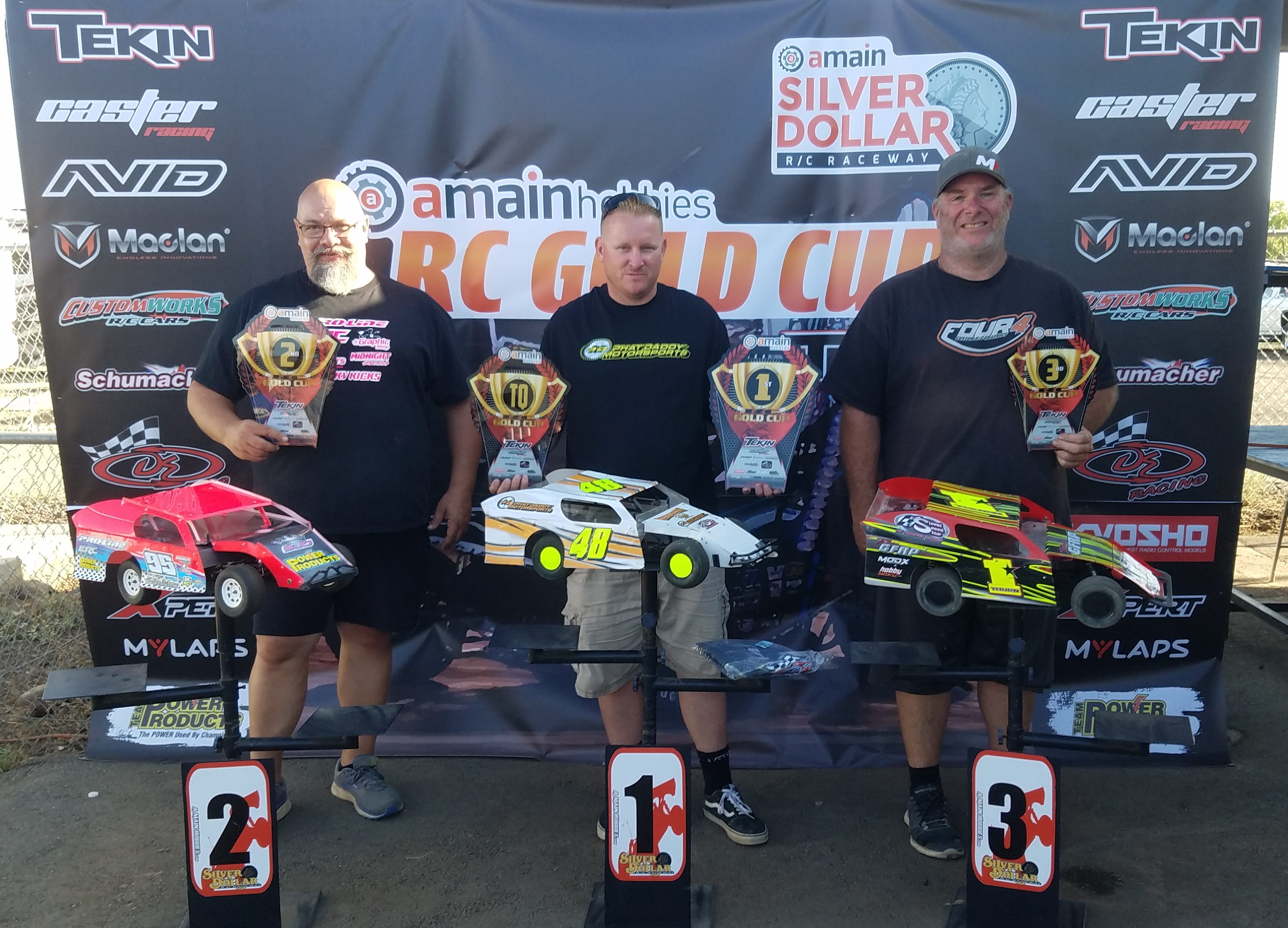 Spec Slash:
Main event video can be found here: https://youtu.be/_vKFzU5EoDg
1st: Daniel Thorson (TQ)
2nd: Heather OConner
3rd: Rick Noack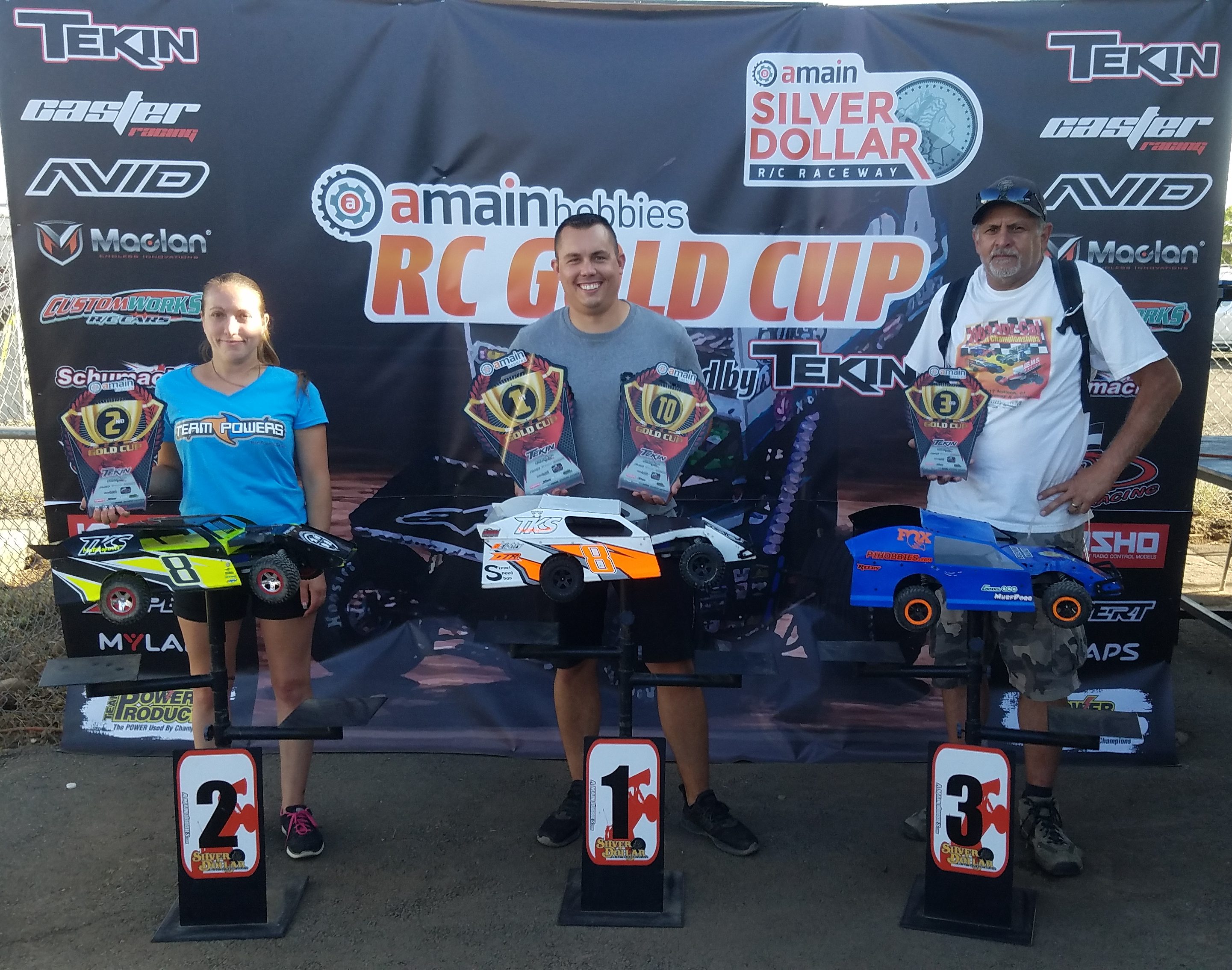 13.5 Wingless Sprint :
Main event video can be found here: https://youtu.be/0pEMwoTAJ-U
1st: Terry Schulz (TQ)
2nd: Mike Garner
3rd: Mike Daly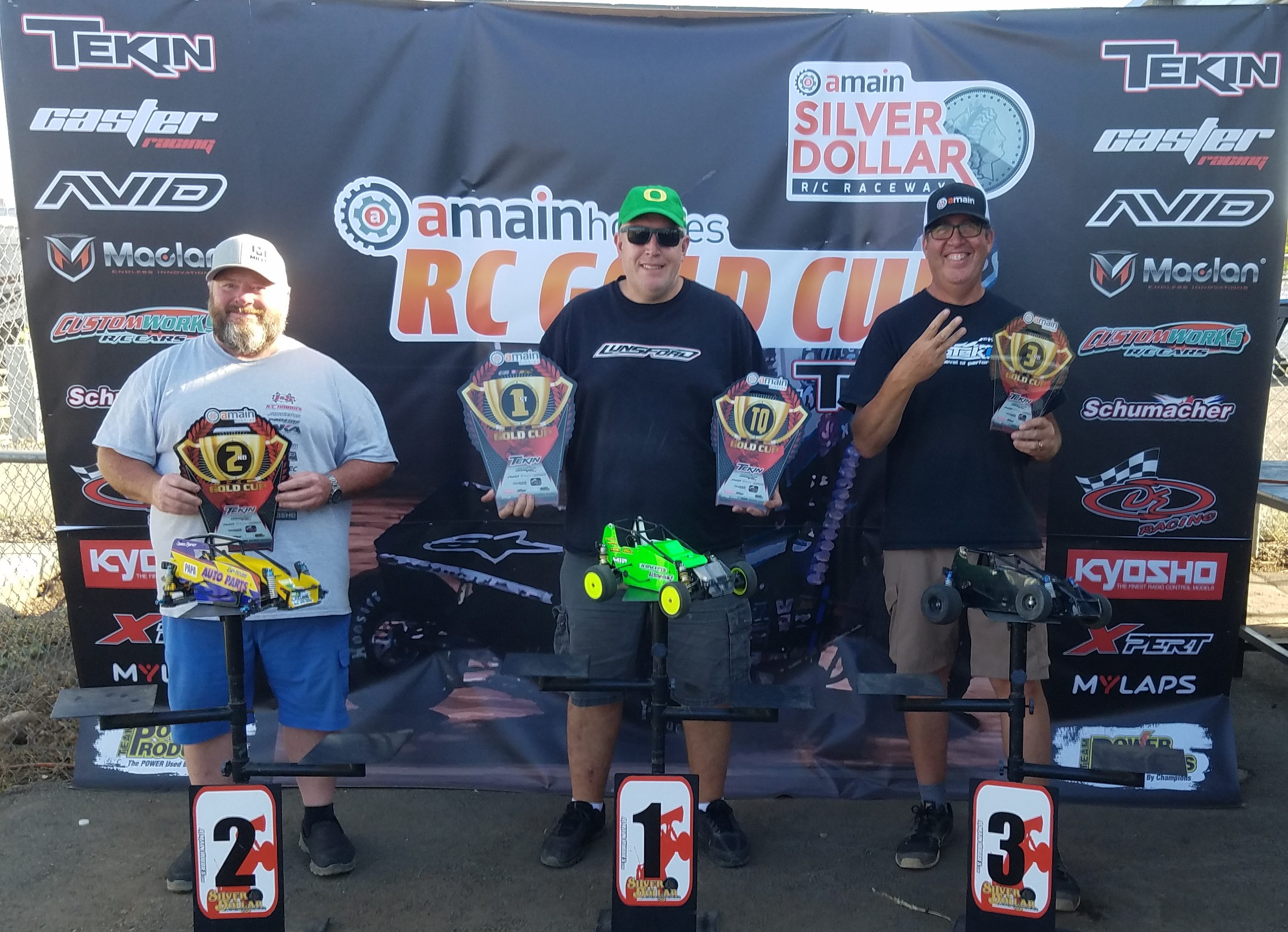 Master Outlaw Sprint +45:
Main event video can be found here: https://youtu.be/RiUyepEP3rs
1st:  Eddie Hill (TQ)
2nd: Silky Johnson
3rd: Scott Whitlow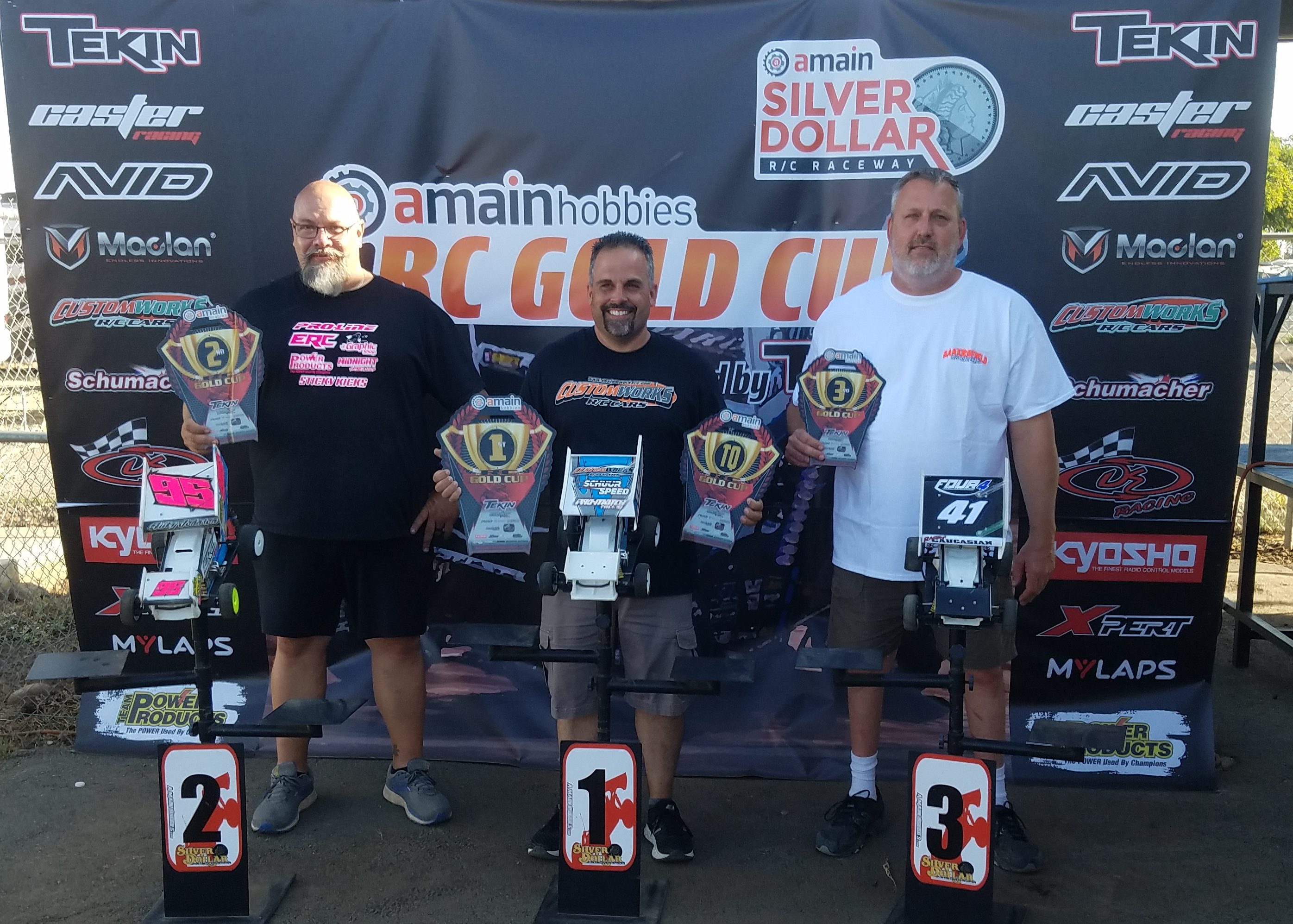 2wd Buggy Late Model:
Main event video can be found here: https://youtu.be/LmUSzgh-Bio
1st: Max Flurer
2nd: Nathan Dean (TQ)
3rd: Eddie Hill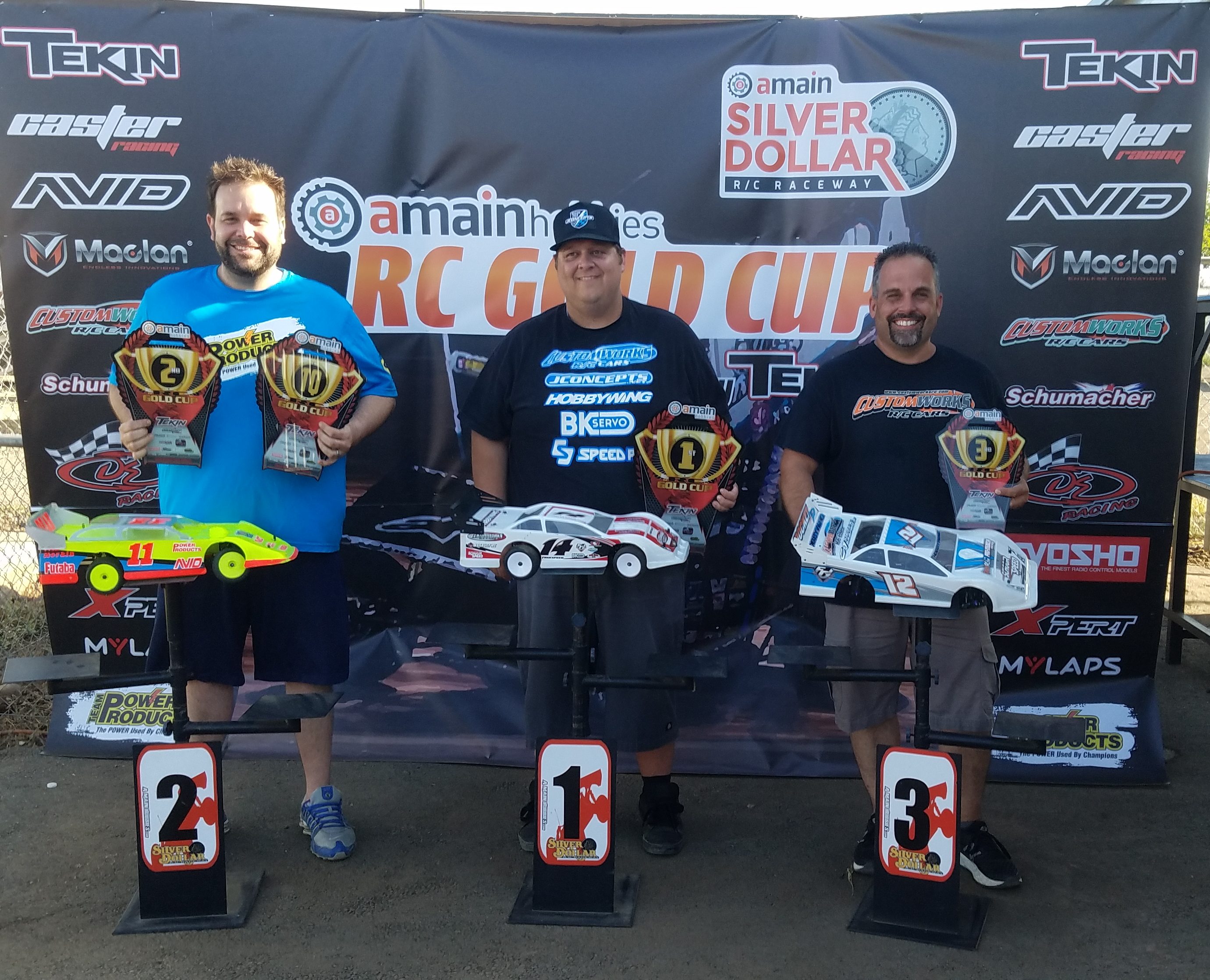 Midwest Modified/B Mod:
Main event video can be found here: https://youtu.be/uVI6GpQ4IZI
1st: Steve Noack
2nd: Eddie Hill (TQ)
3rd: Adam Bartl
Outlaw Sprint:
Main event video can be found here: https://youtu.be/FDZgl56ER1U
1st: Nathan Dean (TQ)
2nd: Brian Breckenridge
3rd: Max Flurer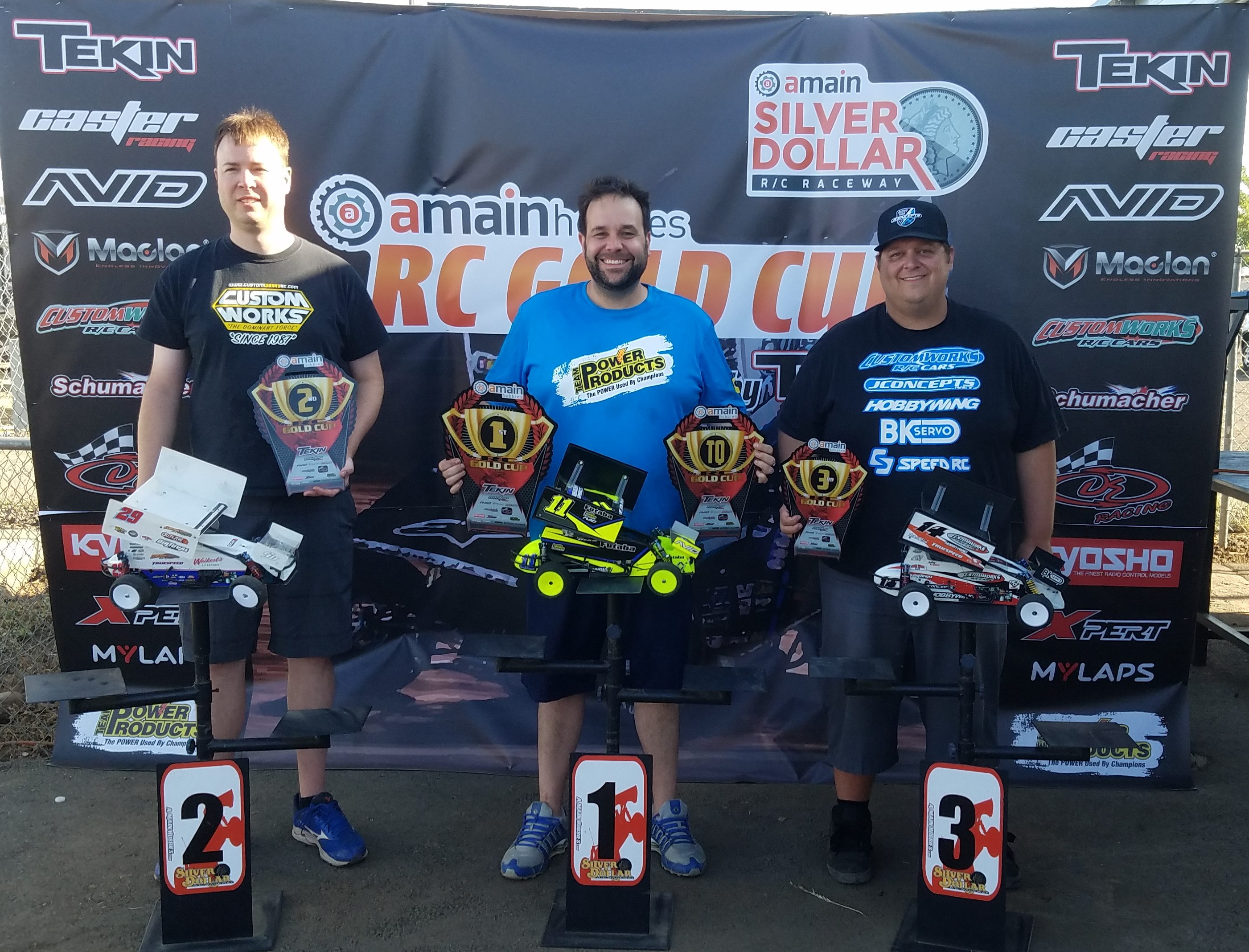 DE Wingless Warriors:
Main event video can be found here: https://youtu.be/SIKB2ok7bi4
1st: Dave Sareeram
2nd: Mike Daly
3rd: Mike Sareeram
(TQ) Terry Schulz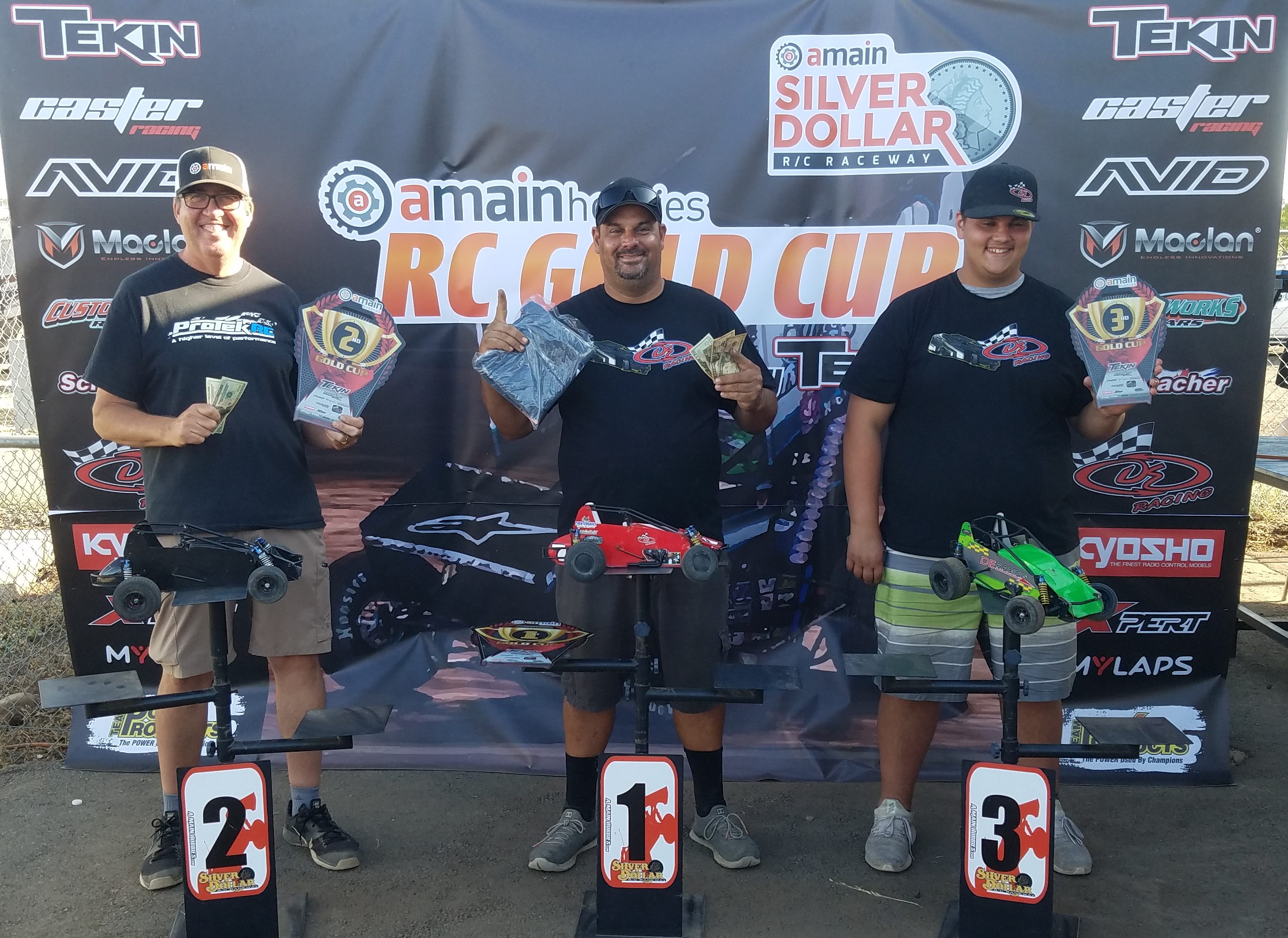 4wd Buggy Latemodel:
Main event videos can be found here: https://youtu.be/yQIT6jo-WK4
1st: Mike Sareeram
2nd:Mark Dawson
3rd: Dave Sareeram (TQ)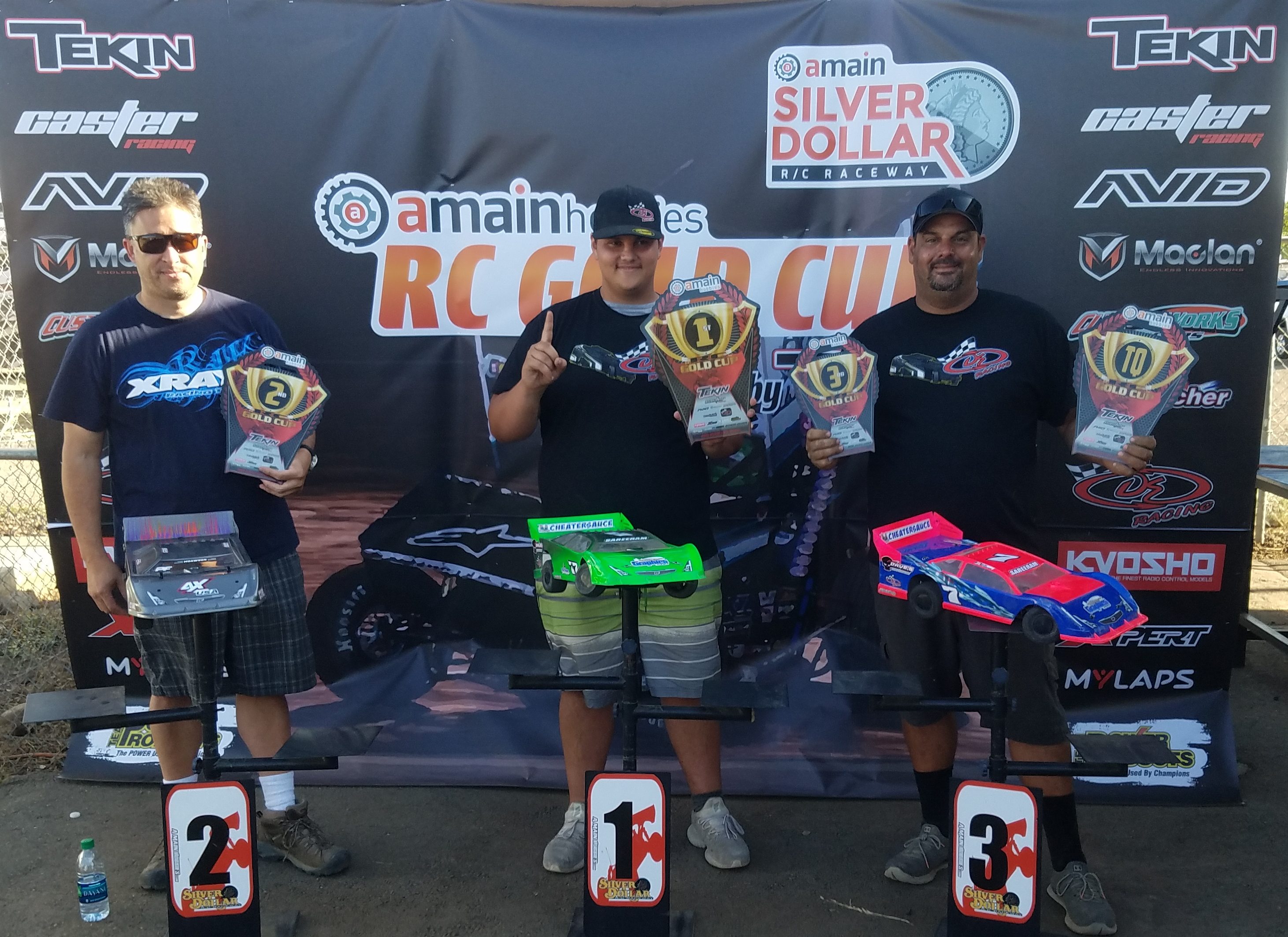 2019 Sponsors: