2016 JConcepts Fall Brawl

Over the weekend of November 5th, 180 entries from all over Northern California, Nevada, Oregon, Washington and Arizona converged on the Silver Dollar RC Raceway Raceway, located in Chico, CA to battle in 13 different divisions at the 2016 JConcept's Fall Brawl including the First Family of RC Cup. With only two big events left; one being this race and the last event being the Pay it Forward race on the calendar this year turnout was great. Fall starts the migration of racers back to the tracks and racers trying to one up their resumes for the next year hence laying the path to 2016 JConcepts Fall Brawl.
After one packed day of practice, 32 qualifying heats, 20 main events, 180 entries and 2 days of action on the track, the 2016 edition of the Fall Brawl is now in the books, and what a weekend of racing it was. Racers started to show up as early as 9:00 a.m. on Friday morning to get their first laps on the combo 1/10th and 1/8th layout. and practice and racing didnt end till Saturday 9pm. The layout was a fast, fun, racy and consisted of two race lines. The layout was a hit with all the racers. The layout combined with very consistent surface, great weather and moisture conditions made for some of the best racing action we've seen at at the new redesigned Silver Dollar RC Raceway. The raceway has been redesigned to support both 1/10-scale and 1/8-scale racing—eBuggy and Nitro 1/8th was offered as alternate classes at the Fall Brawl. Check out this video of the hybrid layout used for both 1/10-scale and 1/8-scale racing: https://www.youtube.com/watch?v=qS7sAnF52s0. 1/10th electric classes only needed to marshal 1/10th and 1/8th for the most part was only needed to marshal 1/8th. This was well received by both classes of racers.
Friday would consist of a full day of practice from 9am to 9pm allowing racers to get really dialed in and to get back and get some sleep at a decent time before Saturday qualifiers and mains started. Friday would start with open practice at 9:00 a.m. when drivers would get their first opportunity on the combo layout. Drivers would spend the day hard at work figuring out the best lines and setups in hopes of making one of Saturday's A finals. The track was super fast and racey seeing 1/10th scale lap times in the low 20's and 1/8th times on the outer race line be in the low 30's. By mid afternoon open practice had turned to packed opened practice as more drivers started to arrive and prepare for the weekend of competition that lay ahead of them. Signups would keep piling in throughout the day and into the night. Most racers would take advantage of the online signup software at www.rccarevents.com. The site would take the racers to the event page which would make it easy to sign up for the event via paypal and allow them to reserve a pit spot. A total of 78 pit spots are reservable under covered and indoor air conditioned spaces.
Saturday morning came early with doors opening at 7am. There were a few drivers still showing up for their first practice laps as everyone else was trying to get their last few laps before the start of qualifying. Race directors Justin Wilde at 10:00am would kick off 2 rounds of qualifying with great informative announcing allowing the racers to put down fair qualifying using the IFMAR live loop start process. Racers would work together in this format to put an effort at their one best runs out of two to seed them into their main events. Qualifying would go on all day till two rounds where complete and this would start the main events.
Main events started early mid Saturday afternoon and now the amazing race announcing of Justin Wilde would really be heard. Justin combined with a second set of eyes of KJ would observe most of the main events to ensure clean, exciting racing would take place . Racers would do an amazing job of policing themselves when incidents would happen and this made for some of the cleanest and best main races seen to date at Silver Dollar RC raceway. Some exciting finishes and lots of last lap passes would go down keeping the spectators entertained all day. Mains would finish up early in the evening and the awards presentation would take place with photos of top threes in typical Amain Performance Hobbies fashion.
Needless to say the race was such a success that racers are already planning on coming Dec 17th for the Pay it Forward race. Thanks to everyone who attended and made this such a fun race and good time to get together the competitive racing community. See you all in a month. Remember a toy will cover your entry fee in December and all the proceeds go to the Torres Shelter in Chico
The JConcepts Fall Brawl First Family of RC trophy has been updated with the winners from the event. AMain Performance Hobbies and the sponsors would like to congratulate David and Jordyn Constant on the First Family of RC win. This is their third year on the trophy as the winners.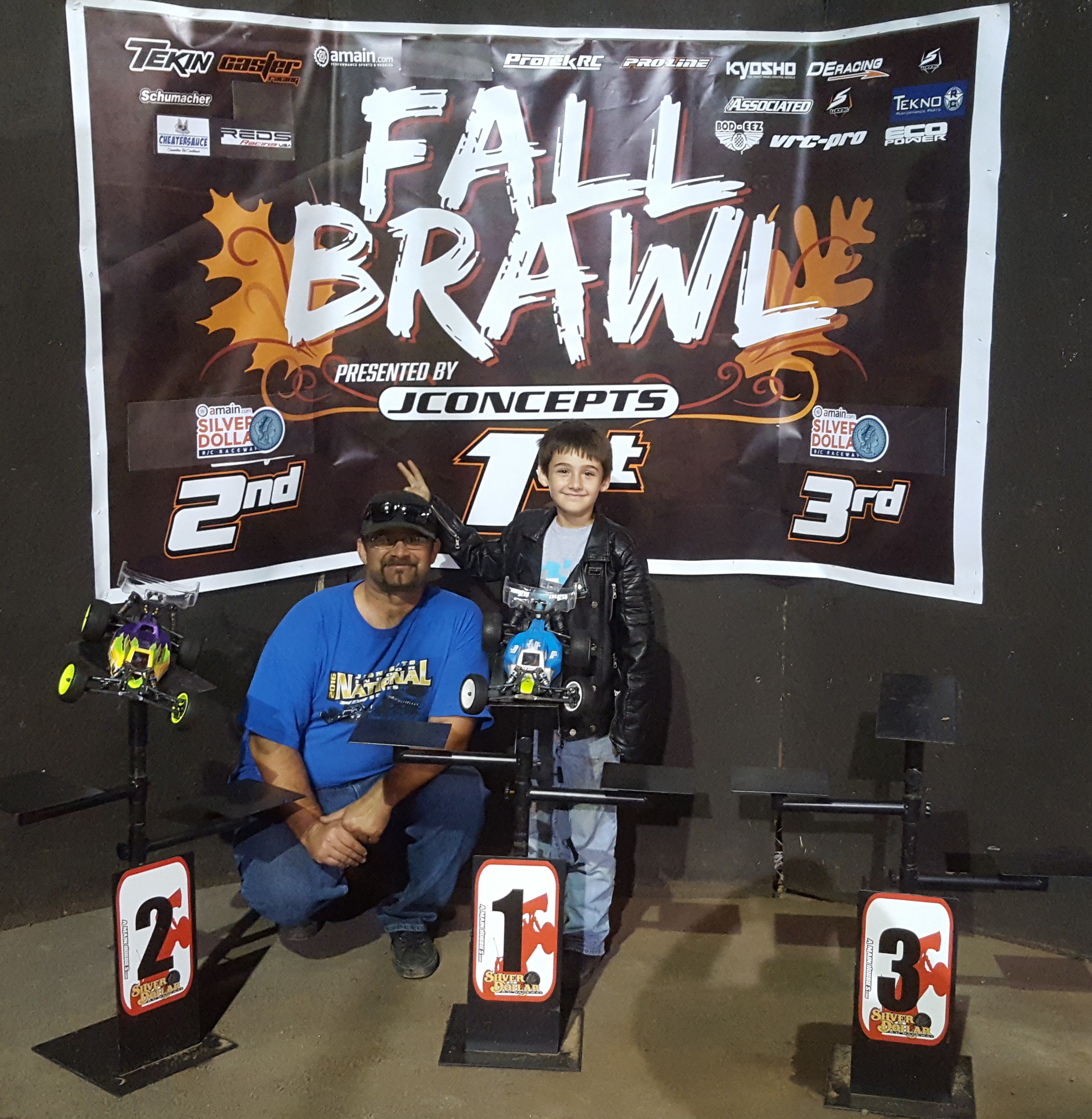 Your every main event PDF File can be downloaded here: 2016 JC Fall Brawl Main results
link: https://www.amaintracks.com/wp-content/uploads/2016/11/2016-JC-Fall-Brawl-Main-results.pdf
Your final overall standings can be downloaded here: 2016 JC Fall Brawl FinalStandings
link: https://www.amaintracks.com/wp-content/uploads/2016/11/2016-JC-Fall-Brawl-FinalStandings.pdf
Photos and Videos
E Buggy top three:
Main event video can be found here: Coming soon
1st: Mason Eppley (TQ)
2nd: Keith Hadley
3rd: Austin Blair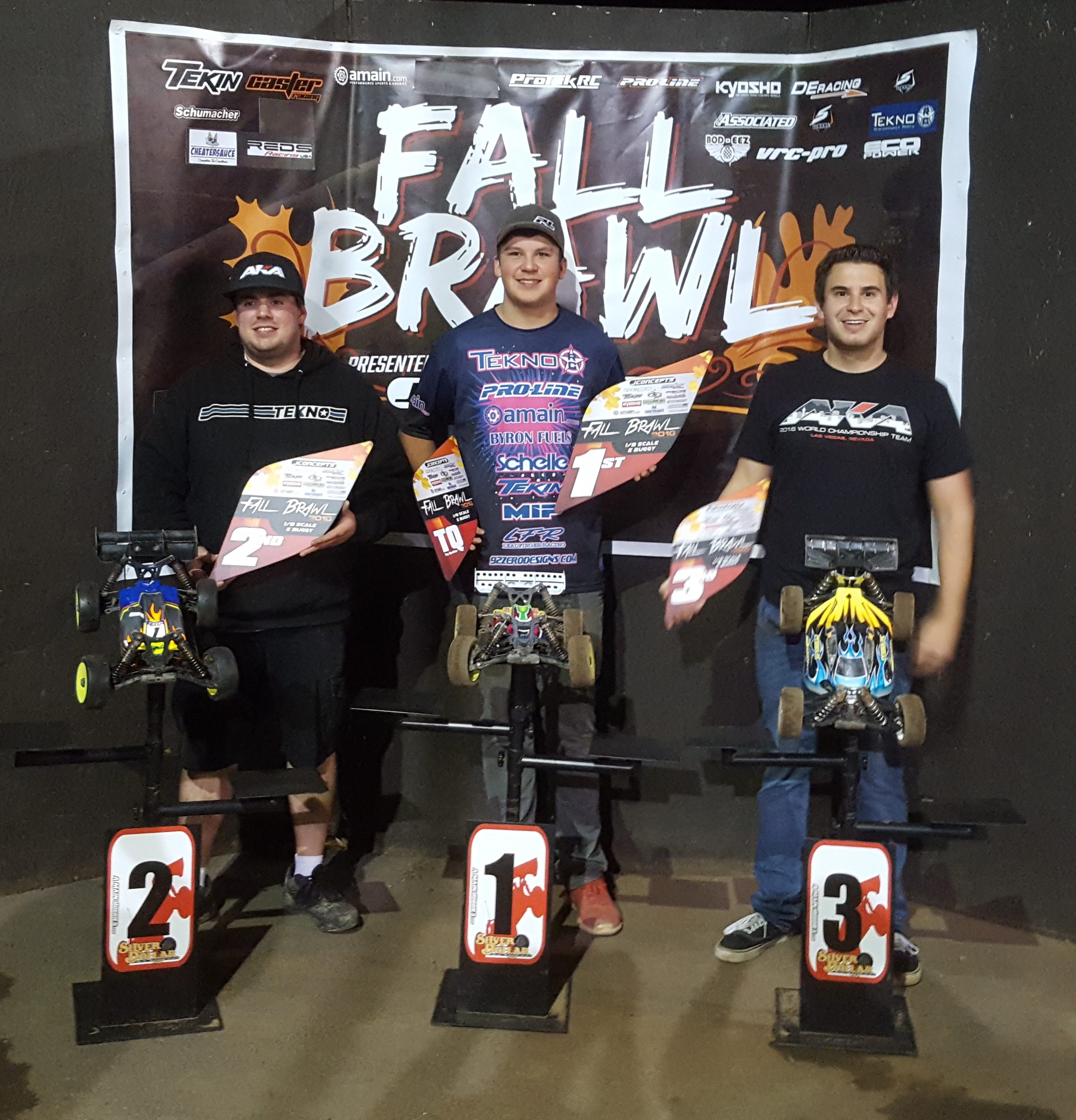 Open Nitro Buggy top three:
Main event video can be found here: Coming soon
1st: Chet Miller (TQ)
2nd: Dennis Wilson
3rd: Gustavo Castillion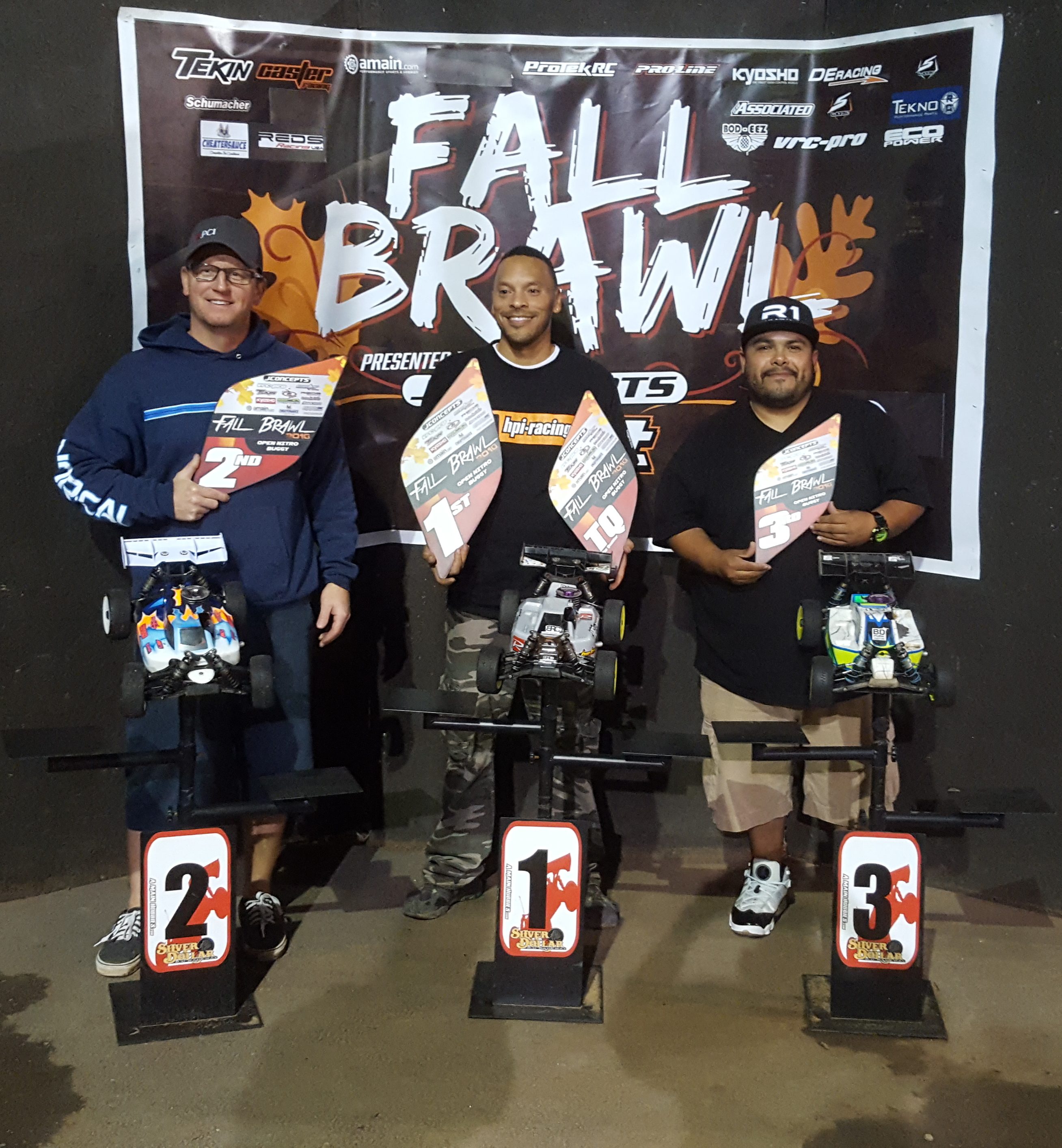 Open Nitro Truggy top three:
Main event video can be found here: Coming soon
1st: CJ Jelin (TQ)
2nd: Jesse Munn
3rd: Dennis Wilson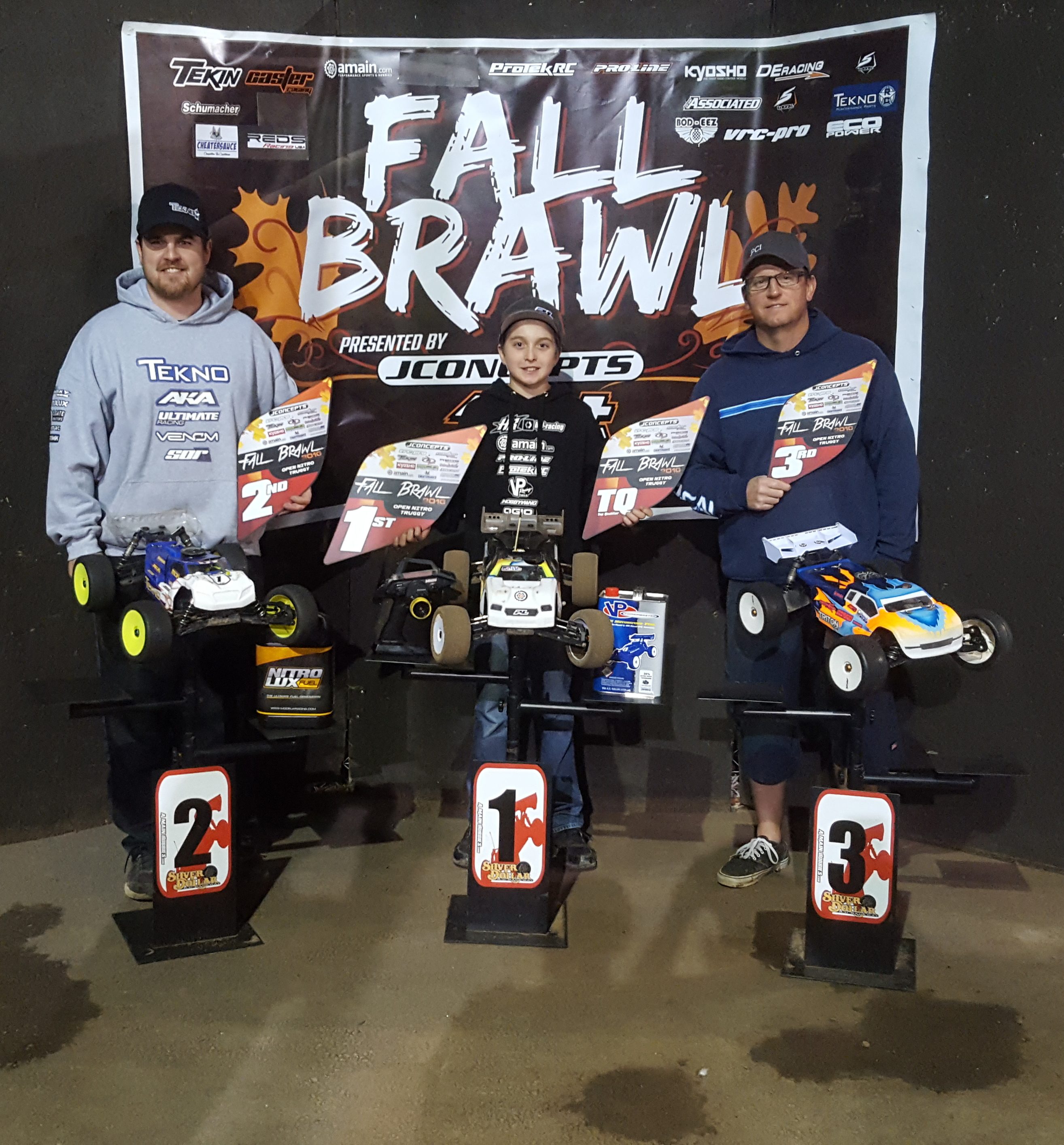 Pro Nitro Buggy top three:
Main event video can be found here: Coming soon
1st: Austin Blair (TQ)
2nd: CJ Jelin
3rd: Chad Bradley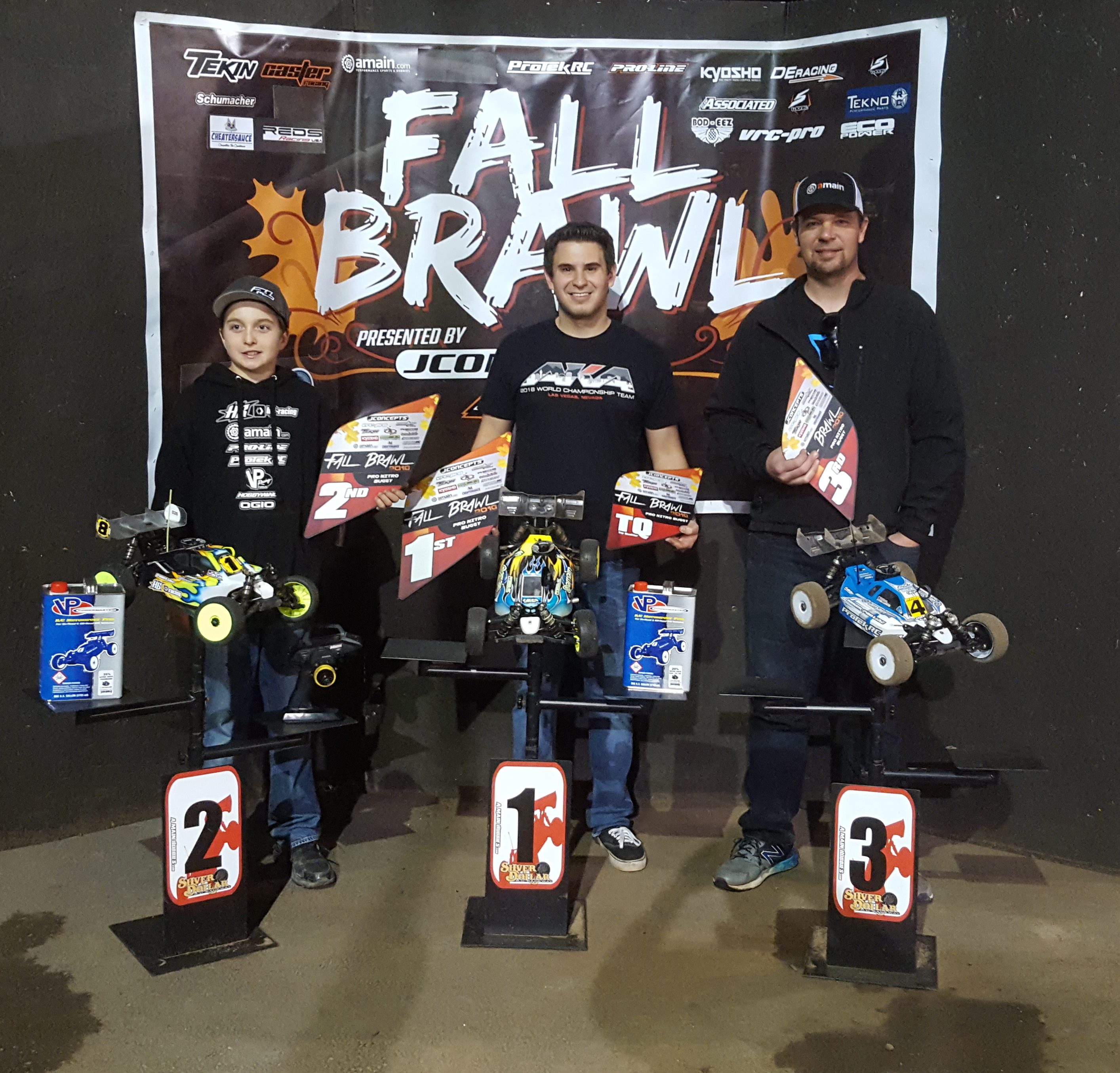 Open 2wd Buggy top three:
Main event video can be found here: Coming soon
1st: Kyle Layton (TQ)
2nd: Justin Moon
3rd: Jack Ingberg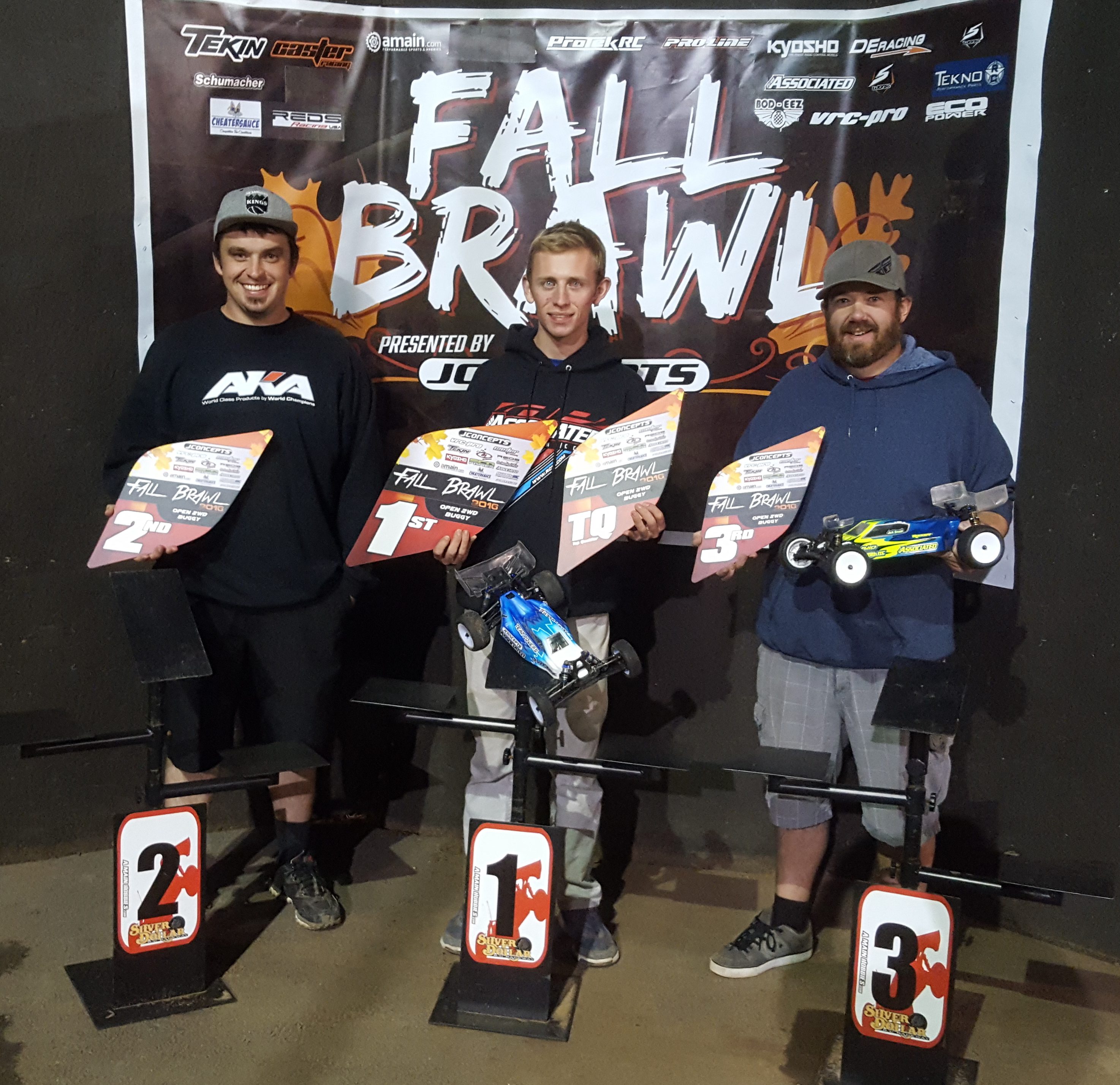 Open 2wd Shortcourse top three:
Main event video can be found here: Coming soon
1st: Jack Ingberg (TQ)
2nd: Justin Wilde
3rd: Dustin Salsby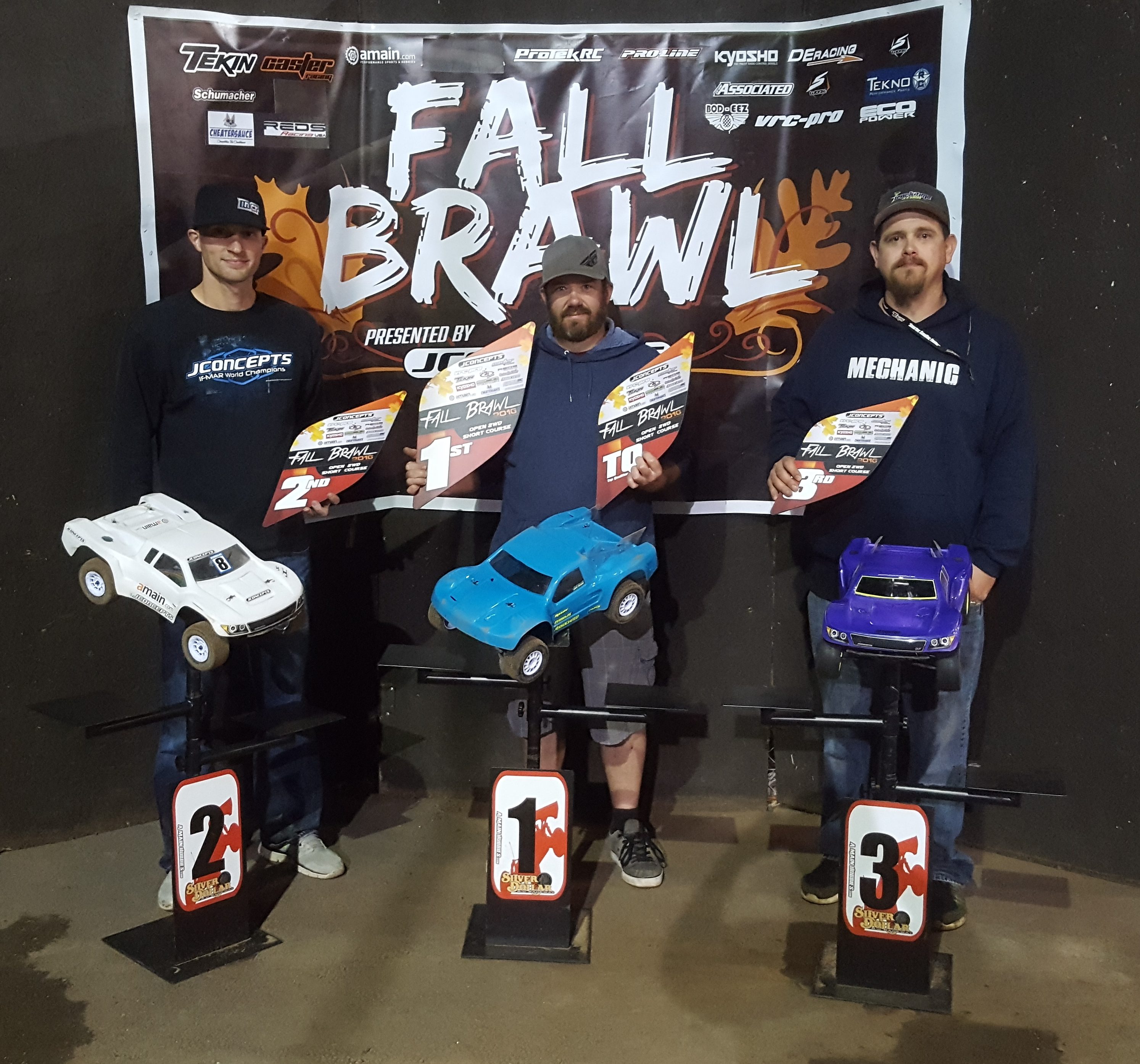 Open 4wd Buggy top three:
Main event video can be found here: Coming soon
1st: Mason Eppley (TQ)
2nd: Jack Ingberg
3rd: Jesse Munn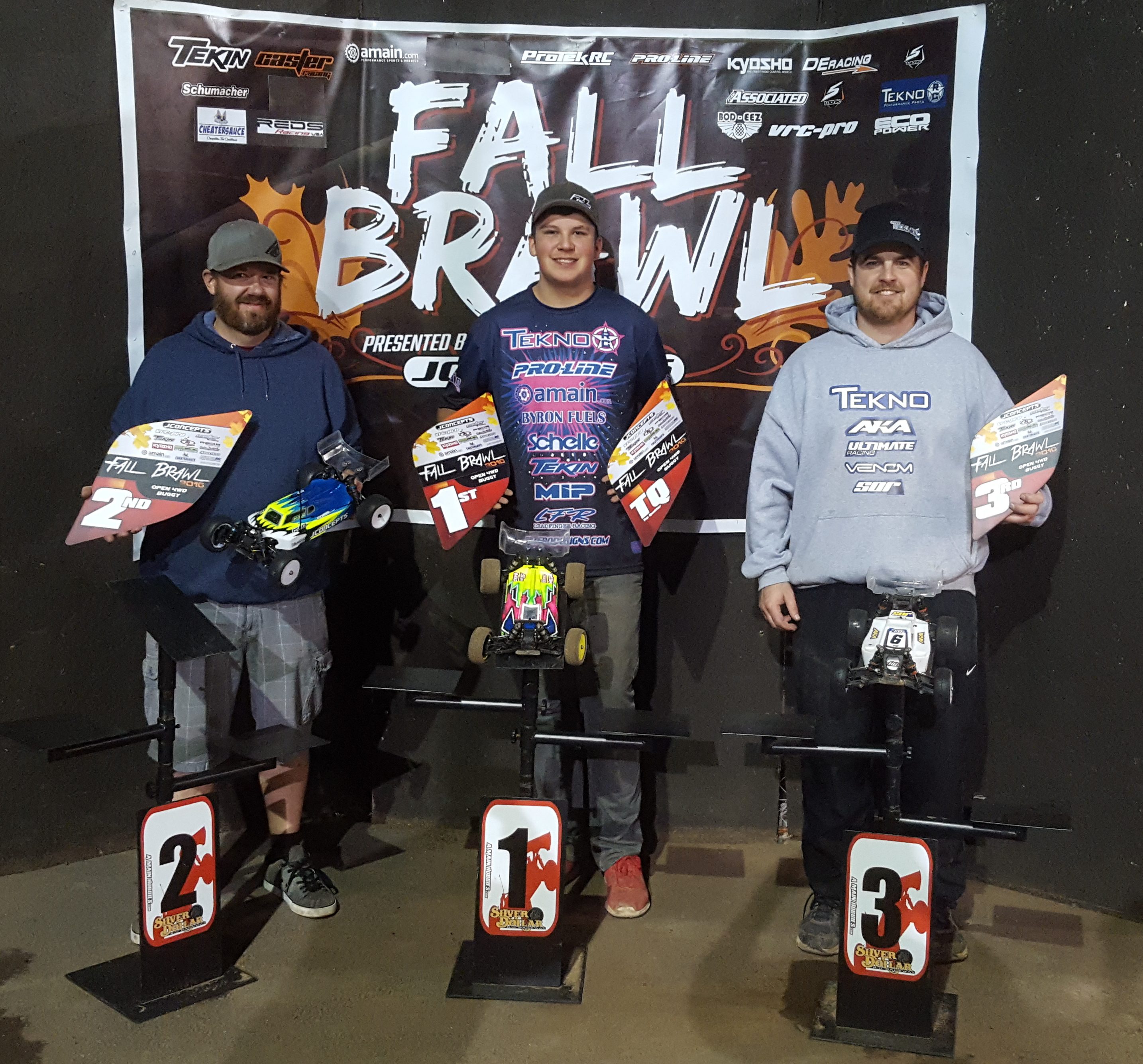 Open 4wd Shortcourse top three:
Main event video can be found here: Coming soon
1st: Keith Hadley (TQ)
2nd: Andrew Pokorney
3rd: Kyle Linton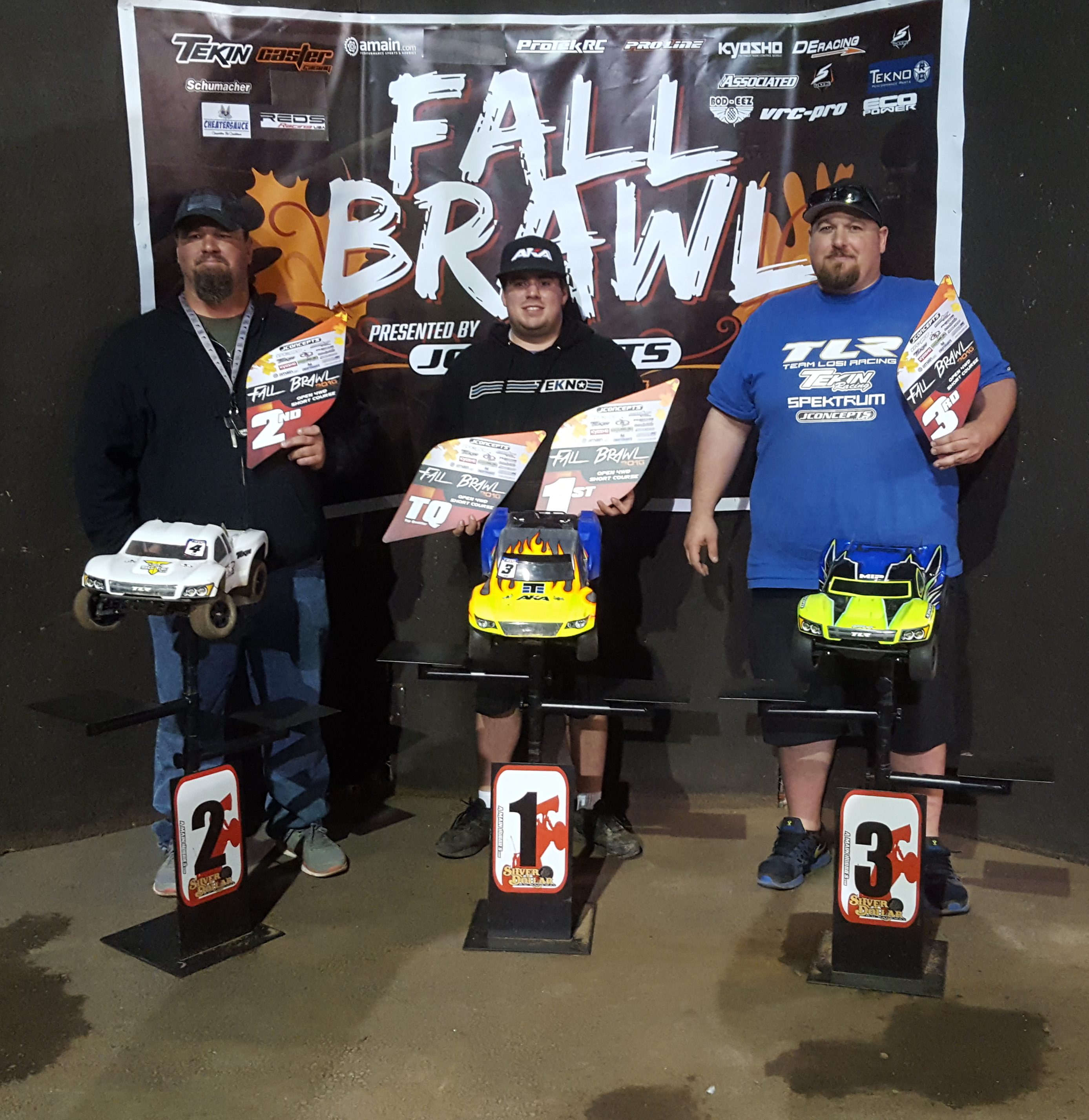 Pro Stock 2wd Buggy top three:
Main event videos can be found here: Coming soon
1st: Marshal Patten
2nd:Todd Pearson
3rd: Dominic Favorito
TQ: Bob Vassallo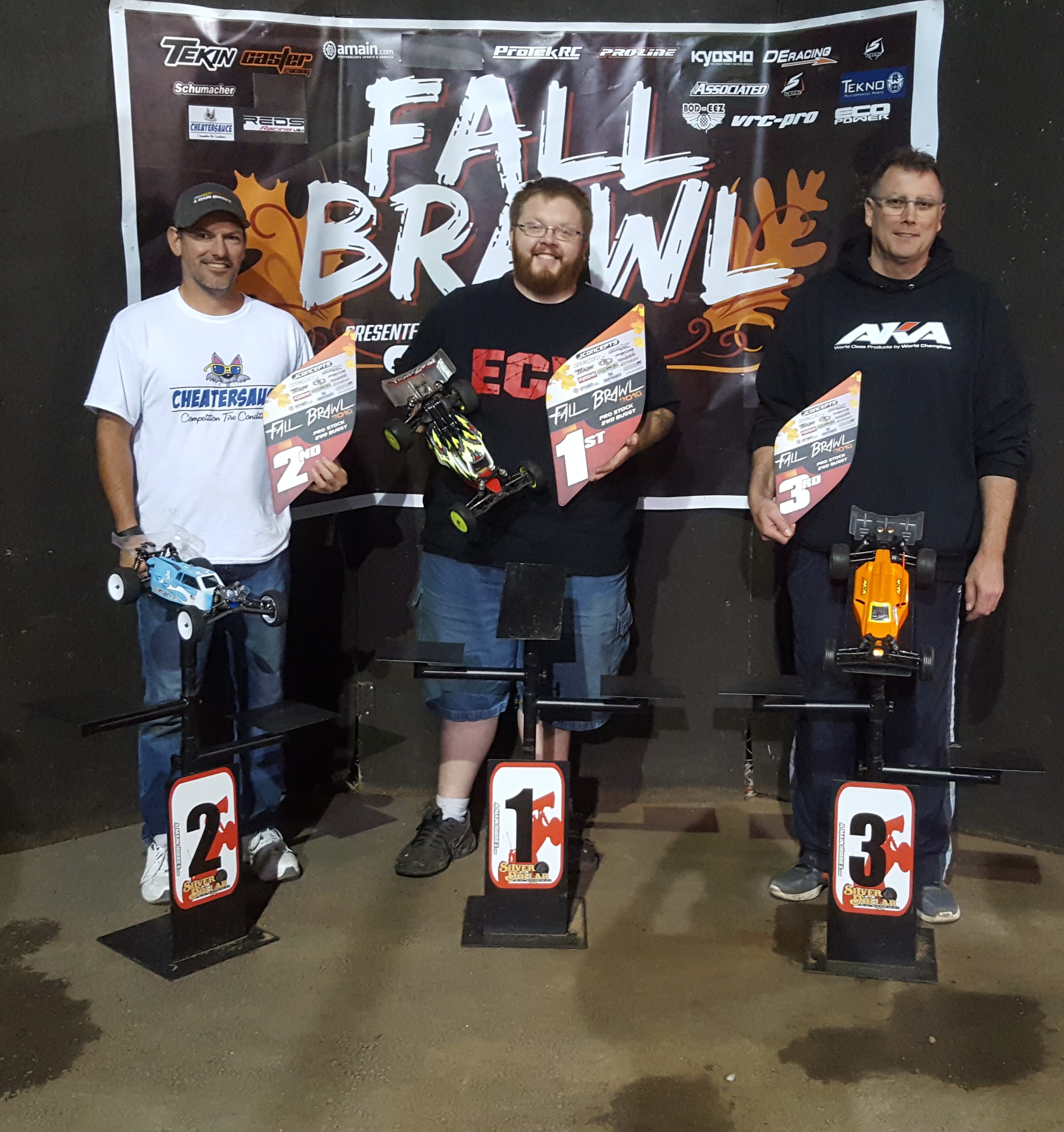 Stock 2wd Buggy top three:
Main event video can be found here: Coming soon
1st: David Constant
2nd: Evan Carton (TQ)
3rd:Brian Romo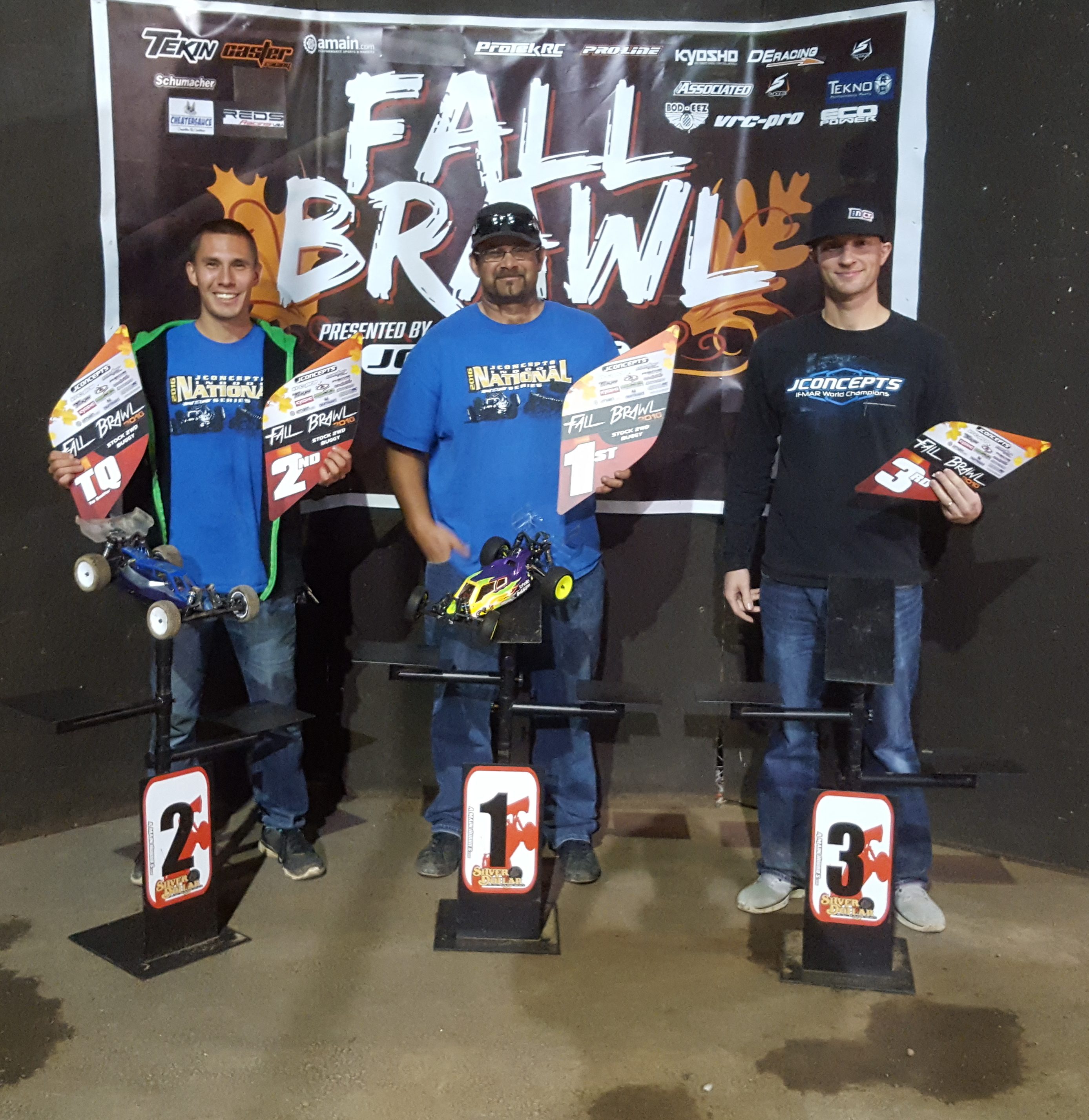 Stock 2wd Shortcourse top three:
Main event video can be found here: Coming soon
1st: Jared Thulin (TQ)
2nd: John Stahlman
3rd: Jordan Meyer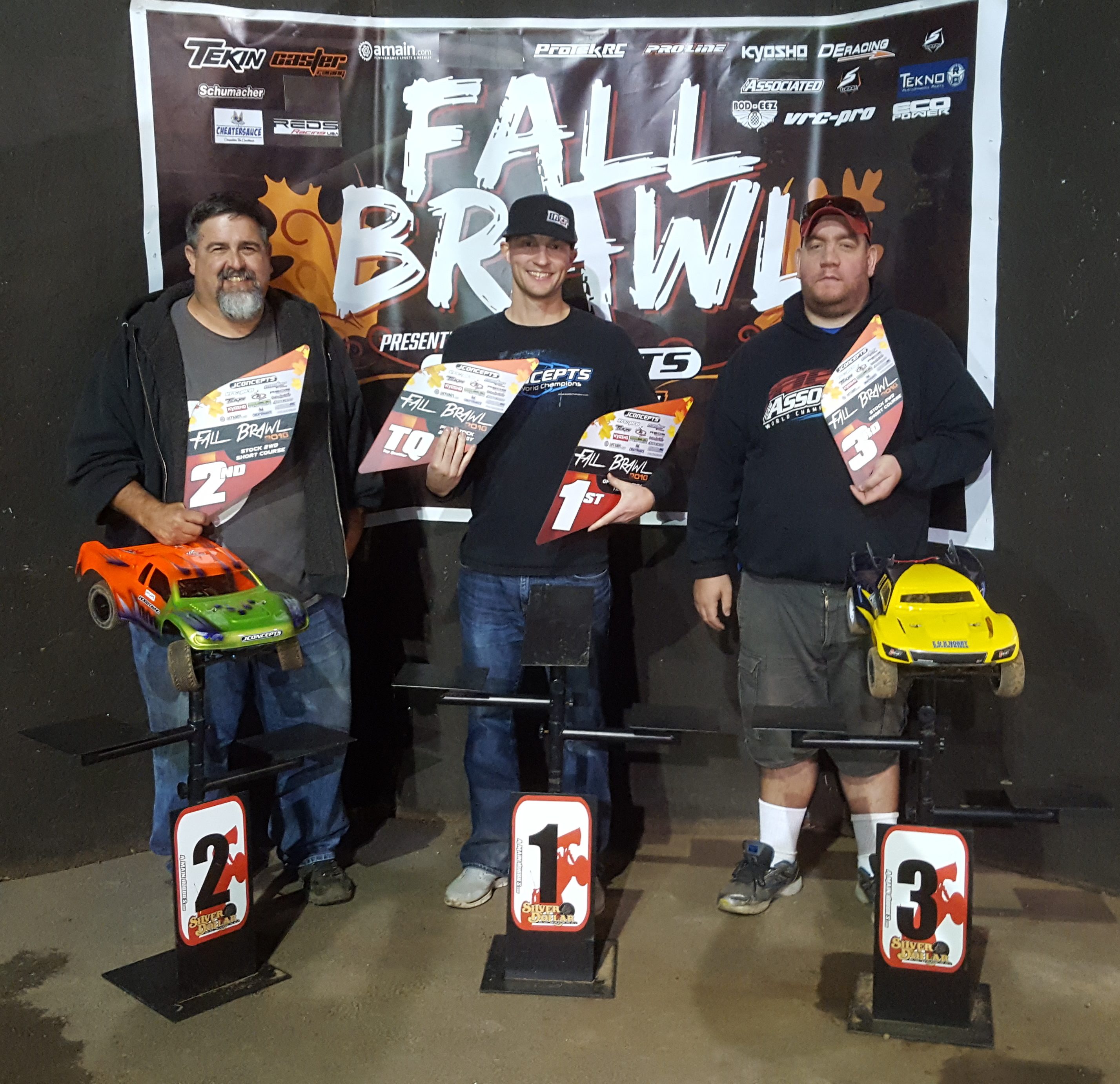 Stock Stadium Truck top three:
Main event video can be found here: Coming soon
1st: Brian Romo
2nd: Bob Russell
3rd: Jeff Fridrich (TQ)