2016 JConcepts Outback Shootout
2016 J Concepts Outback Shootout

260 entries would show up to this years 2016 J Concepts Outback Shootout event and see the amazing track prepared by KJ(Kevin Jelich), Jerry Douglas and the AMain Performance Hobbies track crew. The track would consists of 7 jumps, lots of passing sections combined with a fast race surface. This combination combined with the great announcing of Justin Wilde would make for an epic weekend of racing.
What an event it was. The event went on as one of the best events in Outback Raceways history. The event would have respectful racing, traffic being called and guys walking off the drivers stand congratulating each other on their race. As one onlooker would quote" Absolutely the BEST atmosphere of any race I've been to. Energy was positive, sportsmanship was at an all-time high. I got to eaves drop on the camaraderie, congratulations, sincere apologies, and handshakes as competitors leave the driver's stand, and it was heartwarming to witness.". When the AMain staff would walk through the pits all we saw was guys laughing, sharing stories, joking with each other and just a community of racers having a good time. As KJ would quote" Its great to see this community of racers come together every time and to see the camaraderie and respect these racers have for each other.  It just makes me want to do this better and better every time for the racers ".
Friday provided a full day of practice with track opening at 7am and closing at 10pm. Track needed to be grooved in and with the rain and humidity outside it was taking its sweet time. The track crew tried everything from constant blowing, turning the building into a sauna and then turning the building into an ice box. The Air conditioner ice box turned out to be the answer as the track would start to come in late Friday night right but it would be till Saturday morning practice till it was consistent. Saturday morning at 7 am doors would open to 260 entries for the weekend. A 2.5 hours practice session would take place followed by an intense three rounds of qualifying . Saturday would run right on schedule almost to the minute and would wrap up a long hard fought day of qualifying by little before 10pm. Sunday would open up to a short 50 minute practice session leading into the final intense round four of qualifying.  Mains would be posted right on time and probably one of the most exciting TQ dash for cashes won by Mason Eppley would go on as seen here in the race video: https://youtu.be/d1cWvCdCQBY. Shorty there after main events would get under way right on time with great bump up battles going down with top two moving onto the the next main. It would ultimately come down to the 8 Minute A Main events which gave us some of the best shows of the day and our Top three for the event photos.
https://www.amaintracks.com/wp-content/uploads/2016/03/2016-JConcepts-Outback-Shootout-March-6-7.pdf
Here's the TQ dash and top 3 photos:
 TQ Dash For Cash
Video of  the TQ dash for cash can be found here: https://youtu.be/aLBj3YG1aFo
Winner – Mason Eppley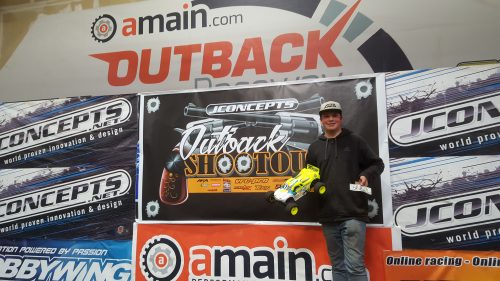 Rookie
1st – Julian Diggs (TQ)
2nd – Paul Maready
3rd – Bud Beard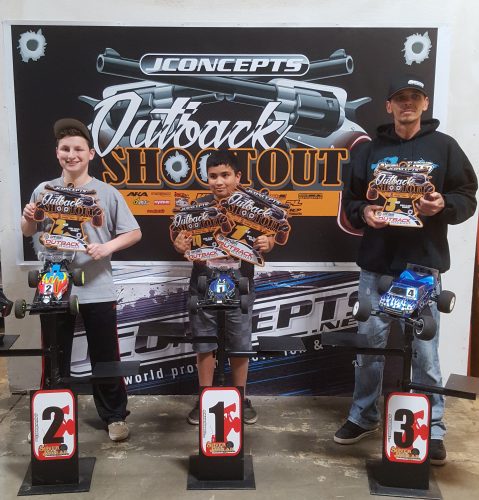 Stock 2wd Short Course
Video of main event can be found here: https://youtu.be/q-DzD32Yl3U
1st – Jeff Lorenzo
2nd – Adam Sobolik
3rd – Lou Saeteurn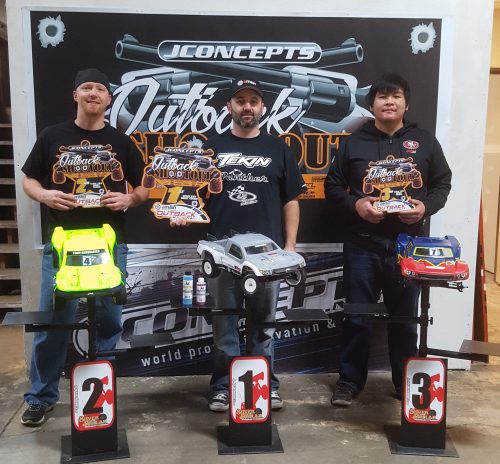 40+ Stock 2wd Buggy
Video of main event can be found here: https://youtu.be/a-PKzOhD0Ps
1st – Dujuan Moore (TQ)
2nd – Todd Pearson
3rd – John Scott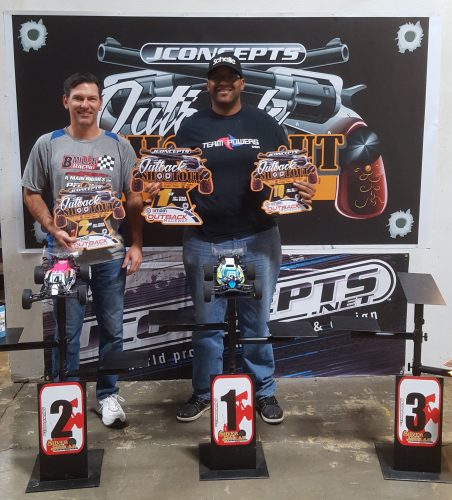 Open 2wd Shortcourse
1st – Drew Lorenzo
2nd – Terry Wickum
3rd – Conner Miracle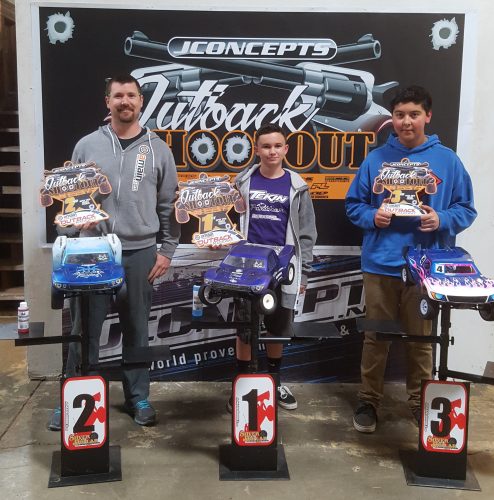 Stock Stadium Truck
Video of main event can be found here: https://youtu.be/3M33F7PcuPE
1st – Mason Eppley (TQ)
2nd – Ron Chunn
3rd – Terry Schulz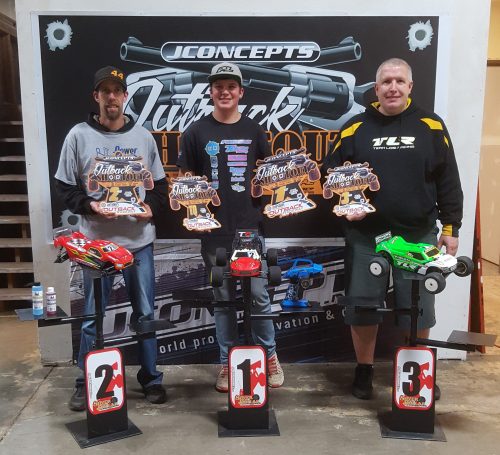 Open Stadium Truck
Video of main event can be found here: https://youtu.be/zUt1mdGj58E
1st – Ryan Matesa (TQ)
2nd – Marshall Patten
3rd – Rick Jenkins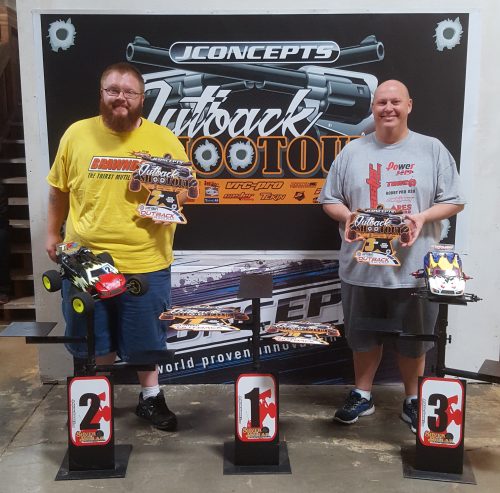 Pro Stock 2wd Buggy
Video of main event can be found here: https://youtu.be/C4E90tRbOJ8
1st – Derek Stephansen (TQ)
2nd – Mason Eppley
3rd – Todd Pearson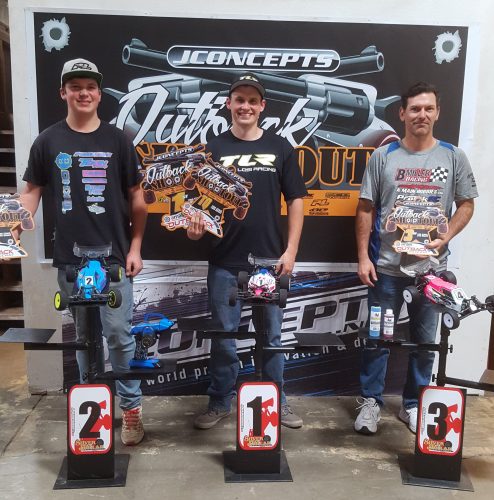 Open 4wd Shortcourse
Video of main event can be found here: https://youtu.be/vtLuoEcsSvU
1st – Kyle Turner (TQ)
2nd – Kyle Linton
3rd – Scott Rapoport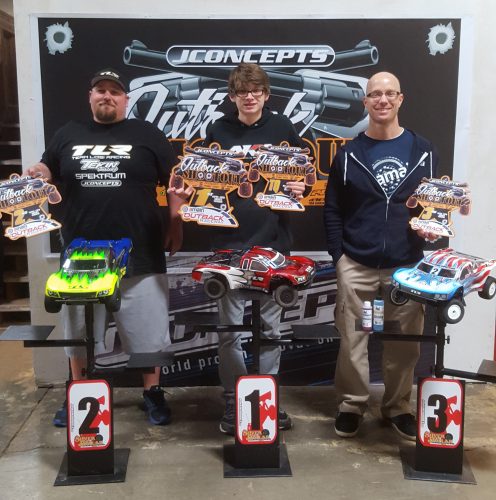 Stock 2wd Buggy
Video of main event can be found here: https://youtu.be/LPtQ9CrbQFs
1st – Jeff Edwards (TQ)
2nd – Jason Bell
3rd – Zach Sievert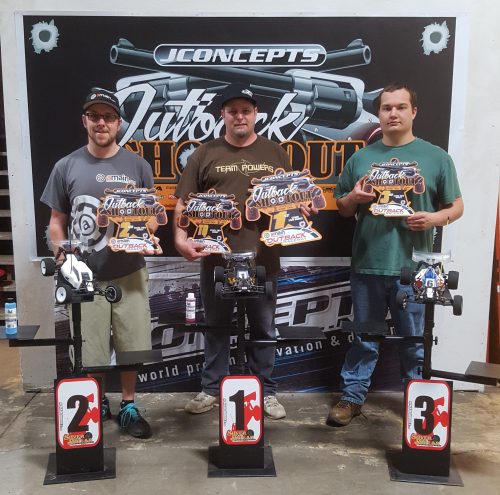 40+ Stock Stadium Truck
Video of main event can be found here: https://youtu.be/tPixHmimfQI
1st – Ron Chunn
2nd – Terry Schulz (TQ)
3rd –Tobias Diggs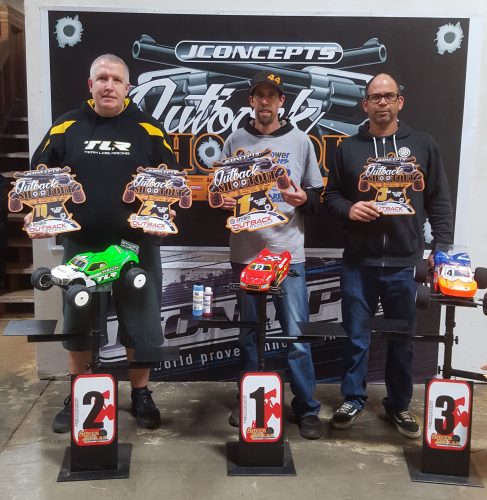 Open 2wd Buggy
Video of main event can be found here: https://youtu.be/ECgaZp169gg
1st – Derek Stephensen
2nd – Kyle Turner (TQ)
3rd – Kyle Layton
13.5 4wd
Video of main event can be found here: https://youtu.be/zOf9WNyu6B0
1st – Drew Lorenzo (TQ)
2nd – Conner Miracle
3rd – Dan Devey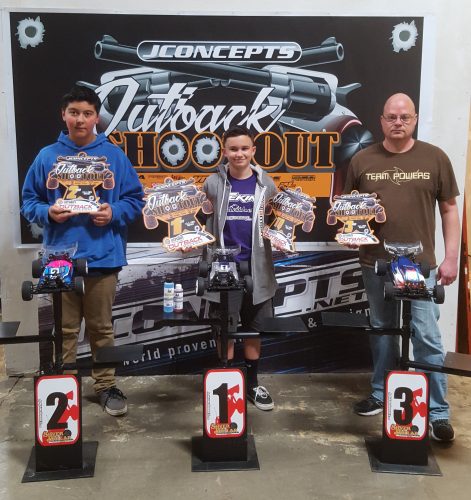 Open 4wd Buggy
Video of main event can be found here: https://youtu.be/flM5bchW0DA
1st – Kyle Turner (TQ)
2nd – Kyle Layton
3rd – Mason Eppley
Stay tuned for more great
events
at A Main's
Outback Raceway
and THANKS to all the racers for making this a great event
We would like to thank the sponsors for the event: