2016 N.C.S.O.S Rd 1 Silver Dollar RC Raceway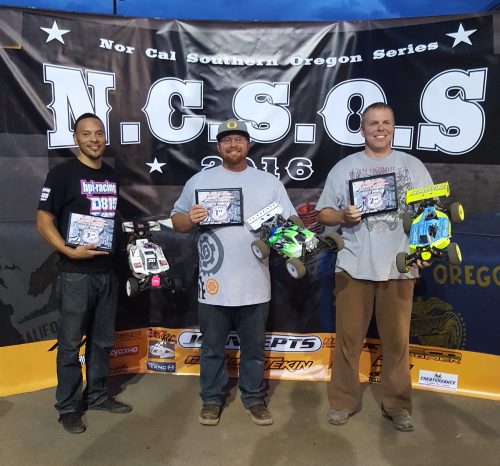 On May 14th 110 entries from California, Nevada and Oregon would converge on the Silver Dollar RC Raceway for round 1 of the N.C.S.O.S. The racers would show up to cool weather, a freshly watered track and big turnout for this one day race. This would serve as a warmup race to the 2016 SWORKz race  June 4-5 http://tracks.amainhobbies.com/event/2016-sworkz-off-road-challenge-by-jconcepts/. Announcer Brian Crum would be onsite to call the race action and coupled with the AMain Performance Hobbbies team it was looking to be a great race day.
Gates would open at 7:30am and practice would start at 8am and go to 10am. The track would be kept perfectly watered all throughout practice by KJ and the AMain track crew to ensure no tire wire and a consistent track was in place so racers could dial in their cars for the days conditions.
Practice would shut down at 10am and the drivers meeting would start. The meeting would consist of a thank you to the racers for attending, format changes and for the first time in Silver Dollar RC history a watering demonstration. Silver Dollar RC was going to try a new approach to their program this year and that is watering between every run and main event by the corner marshals. Basically a hose is placed at every corner marshal spot with a light pressure sprayers and after each qualifier and main the corner marshals would pick up a hose and water their respective corners. Hindsight this would be a hit with racers and would ensure no tire wear, consistent track all day, no dust and lots of happy racers.
The racers have been asking for this for years and AMain Performance Hobbies delivered. As one racer would quote "I wanted to thank you again!  Awesome racing at the NCSOS!  I loved the watered track conditions and I think that the watering system worked super great!  I hope that you do the same thing at the SWORKz as the traction was good, and tire wear was minimal which made the race much more affordable for all us club racers!" Jason Schurig
As always AMain Performance Hobbies steps it up for the racers every chance they can get. Its these comments and honest feedback that AMain Performance Hobbies listens to learns, adjusts and betters themselves each and every coming race. Basically like a quote from KJ said "  We love working hard for the racers and participants as they bring bring so much fun energy and commitment to each of these races. It inspires us every time the level of camaraderie and friendship we see in the pits and on the track and that's what makes us step it up every time"
After dodging a little light rain in the morning three well ran rounds by Announcer Brian Crum would be put down with one resort after round two. The corner marshals did an amazing job watering the track after every run and coupled with the AMain track crew the track stayed wet all day.
Qualifiers would lead to main events in the later afternoon. The sun was starting to get low in the sky and the evening was upon the race. Racers could see how watering all day start to pay its reward as the track now coupled with the shaded track and sunset hours was hooked up and they were amazed at the grip and lack of tire wear.
Main events would conclude around 7:30pm after three rounds of IFMAR qualifying and  these would be the top three for the Round 1 of the N.C.S.O.S.
AMain Performance Hobbies, Crown Raceway and Rattlesnake Raceway would like to thank all who attended.
You can view your every heat and main here: https://www.youtube.com/playlist?list=PLwoRPGmQpUURBVH9O71OSfdMQEpdQotDv
Results file can be found here: https://www.amaintracks.com/wp-content/uploads/2016/05/NCSOS-Main-event-RoundResult-Round4.pdf
or here: http://tracks.amainhobbies.com/silver-dollar-rc-results/
Series Points standings can be found here  with pro truggy sepearated :https://www.amaintracks.com/wp-content/uploads/2016/05/NCSOS-rd-1-pro-seperated-points-SeriesResultReport.pdf
Top three Photos below:
Pro 4 Short Course Truck
Video of Main event: https://www.youtube.com/watch?v=Dmh0WK6nXS0
Adam Sobolik
Austin Hansen
Evan Carton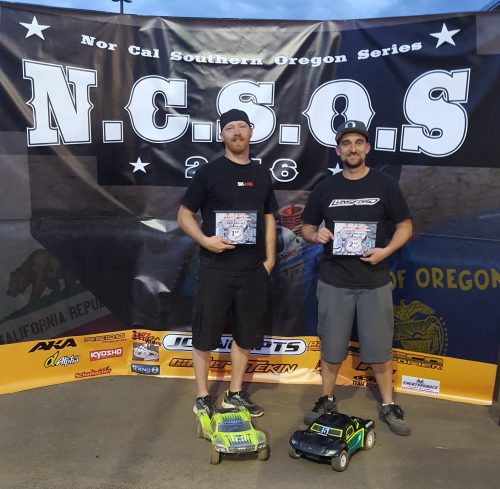 1/8th Pro / Nitro Truggy
Video of Main event: https://www.youtube.com/watch?v=U4EZ9ETcCL8
CJ Jelin (TQ)
Mark Schroeder
Scott Rapoport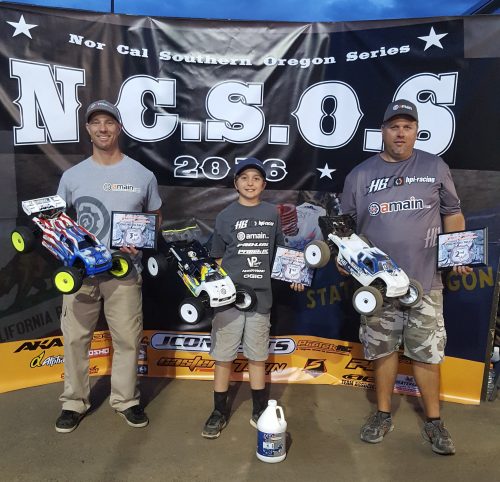 1/8th Open Nitro Truggy
Video of Main event: https://www.youtube.com/watch?v=U4EZ9ETcCL8
Mike See
Kerry Lemos
Brad Juanarena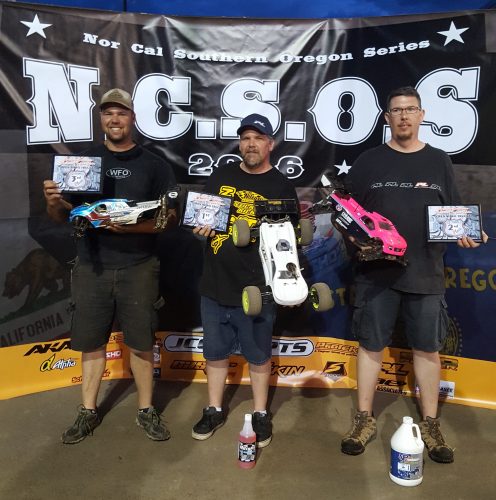 1/8th E Buggy
Video of Main event 1: https://www.youtube.com/watch?v=jxpen2mCcpw
Video of Main event 2: https://www.youtube.com/watch?v=dEuO2zJJnyc
Mason Eppley
Kyle Turner
Chad Bradley (TQ)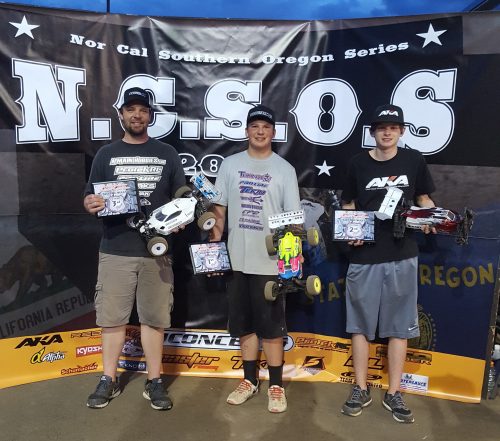 1/8th Open Nitro Buggy
Video of Main event: https://www.youtube.com/watch?v=A6gzuP9SXu4
Mike Gordon
Norbert Puzia (TQ)
Chet Miller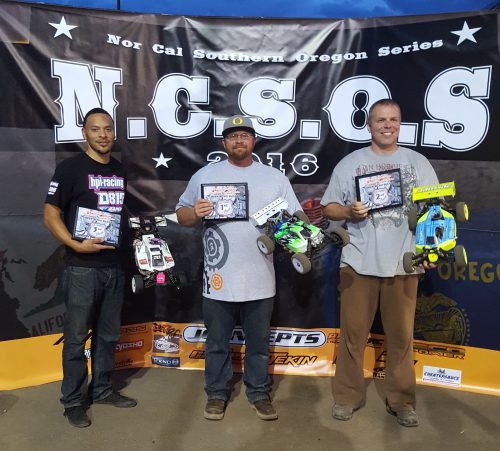 1/8th Pro Nitro Buggy
Video of Main event: https://www.youtube.com/watch?v=oQJPzgSOwnc
CJ Jelin
Chad Bradley
Mason Eppley (TQ)