2017 Tekin Labor Day Shootout
2017 Tekin Labor Day Shootout
AMainhobbies.com would like to first off thank all the racers that attended this years 2017 Tekin Labor Day Shootout race at Silver Dollar RC Raceway and making it a great success.
This year AMain.coms Kevin Jelich (KJ) combined with Shane Mouton and Jerry Douglas put down a great layout and perfectly ran race in the 110 degree hot weather. The 160 ft x 110 ft dirt track layout was fast, consistent, had great flow and produced some great racing which was complimented by the informative and exciting race announcing of Shane Mouton. The layout ran both 1/10th and 1/8th scale classes very well. This combination would prove a hit to the attending entries and bring out some of the best racing to date and some exciting close battles and finishes.
One of the race highlights would come in the new turf track preview. A new 48 x100 turf track infield got layed out in time to showcase the new turf track coming soon to AMainhobbies. Also one of the race highlights would come in the watering system at Silver Dollar RC Raceway. Every corner marshals spot would have a small hose so the corner marshal's after each run could water their respective corner and wet down their hats and shirts to cool off in the 110 degree heat. This would ensure minimal tire wear, the ability to cool off and ideal track conditions all day.
Needless to say there wasn't any shortage of great racing and close battles as you can see by the video links and results below.
AMainhobbies would like to thank everyone who attended and congratulate the TQs and top three on their achievements.
Be looking out for our next big events:
2017 Tekin Fall Brawl
Final results can be found here:2017 Tekin Labor Day Shootout RoundResult-Round3
https://www.amaintracks.com/wp-content/uploads/2017/09/2017-Tekin-Labor-Day-Shootout-RoundResult-Round3.pdf
40+ Buggy
1st – Steve Hood
2nd – Frank Lagomarsino
3rd – Dennis Wilson (TQ)
Video of main event can be found here: https://youtu.be/CUUJgzcjmhw
Race Results can be found here: http://amainsdrc.liverc.com/results/?p=view_race_result&id=967449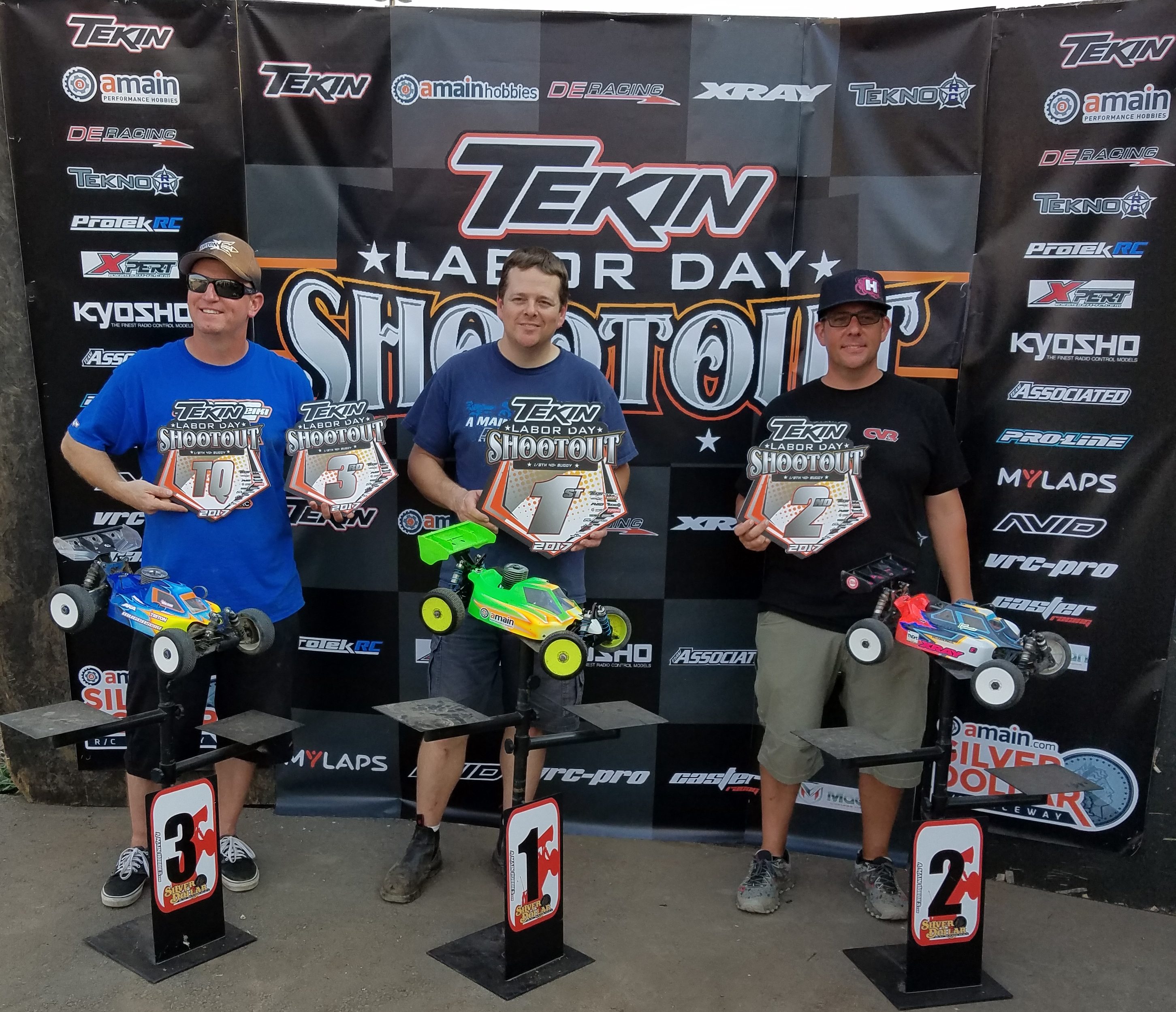 Pro Buggy
1st – Mason Eppley (TQ)
2nd – Phillip Atondo
3rd – Bryce Beaver
Video of main event can be found here: https://youtu.be/CUUJgzcjmhw
Race Results can be found here: http://amainsdrc.liverc.com/results/?p=view_race_result&id=967449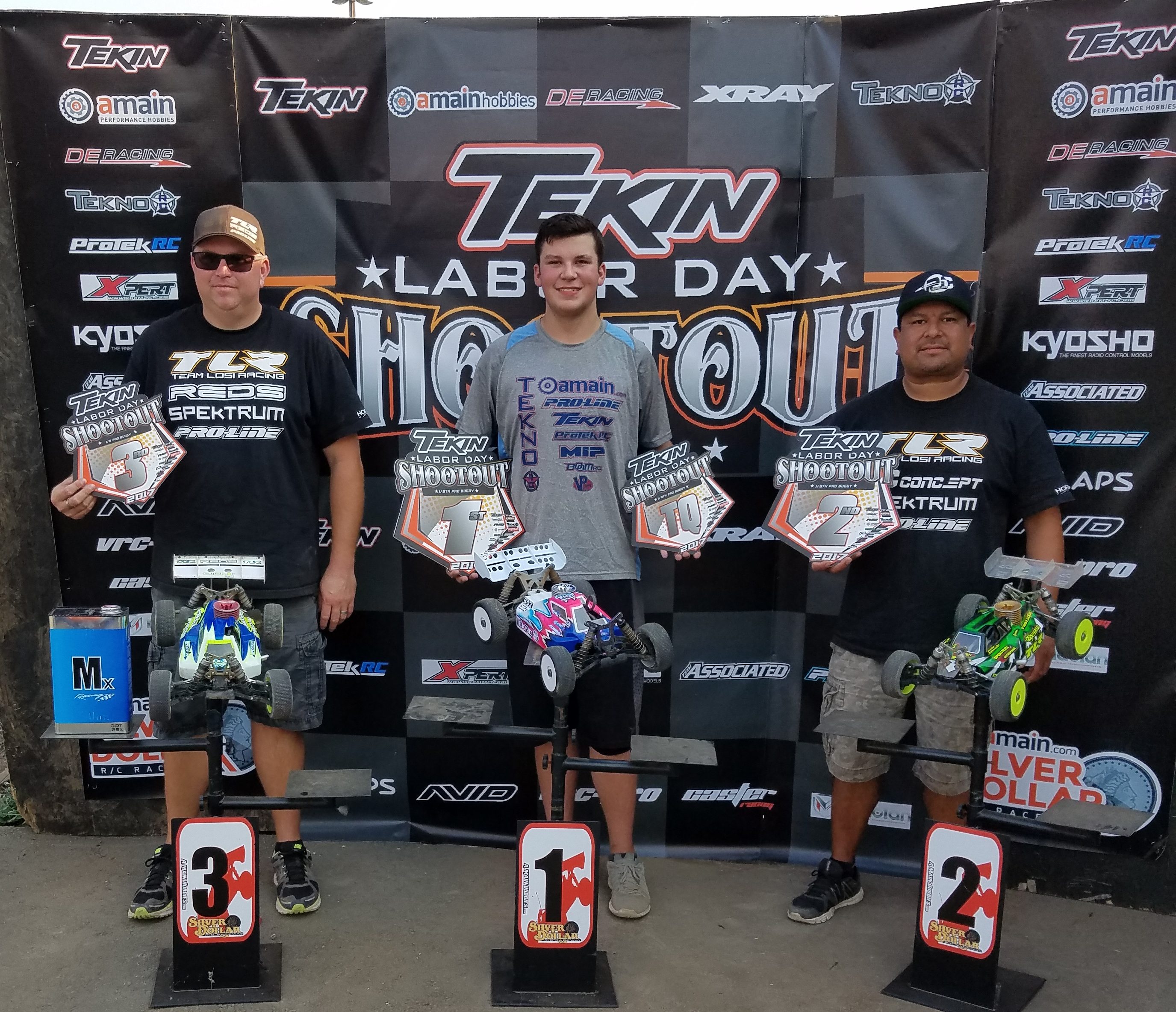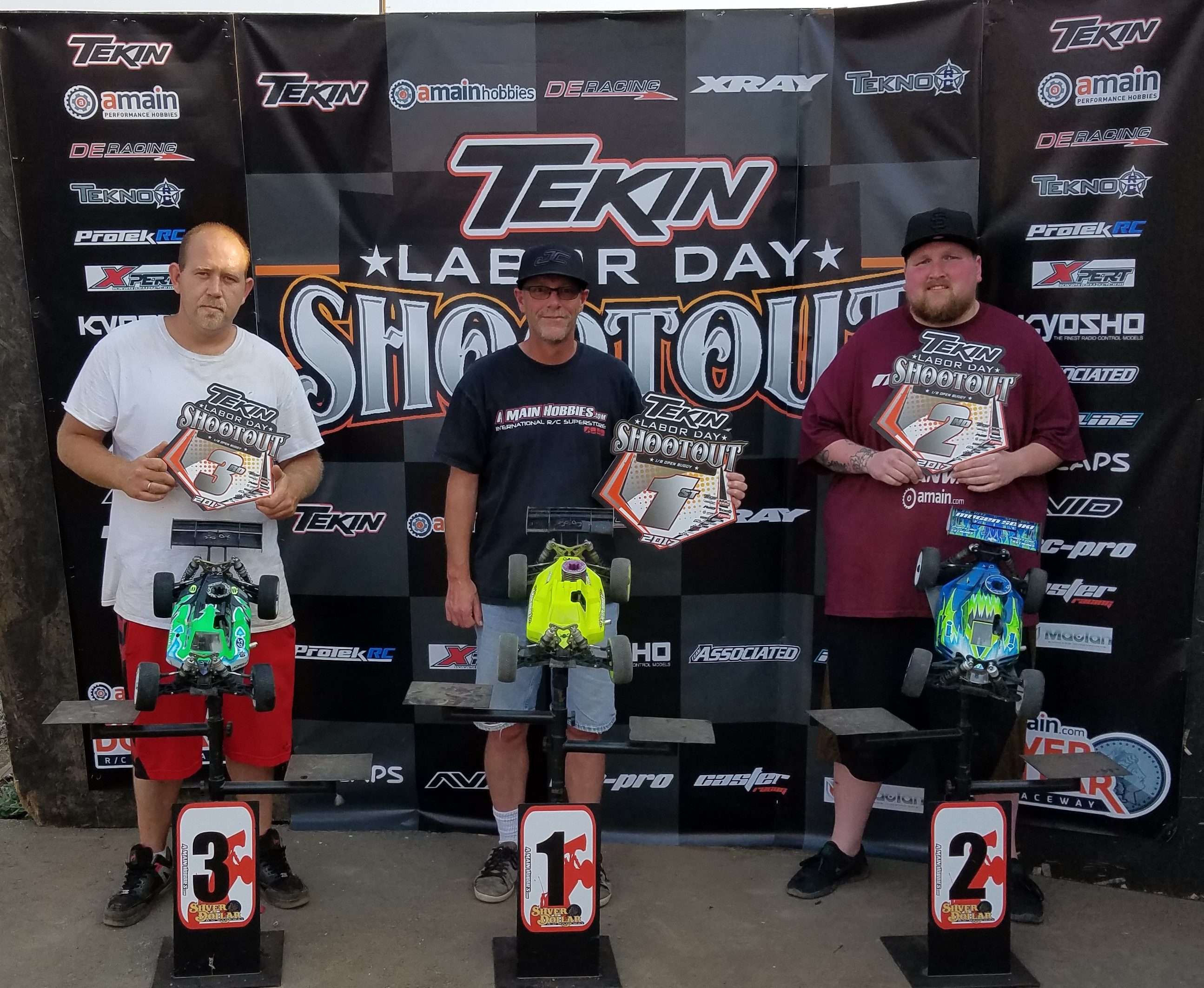 Open Truggy
1st – Phillip Atondo (TQ)
2nd – Charlie Cavalier
3rd – Dennis Wilson
Video of main event can be found here: https://youtu.be/1U_CiY-iINY
Race Results can be found here: http://amainsdrc.liverc.com/results/?p=view_race_result&id=967451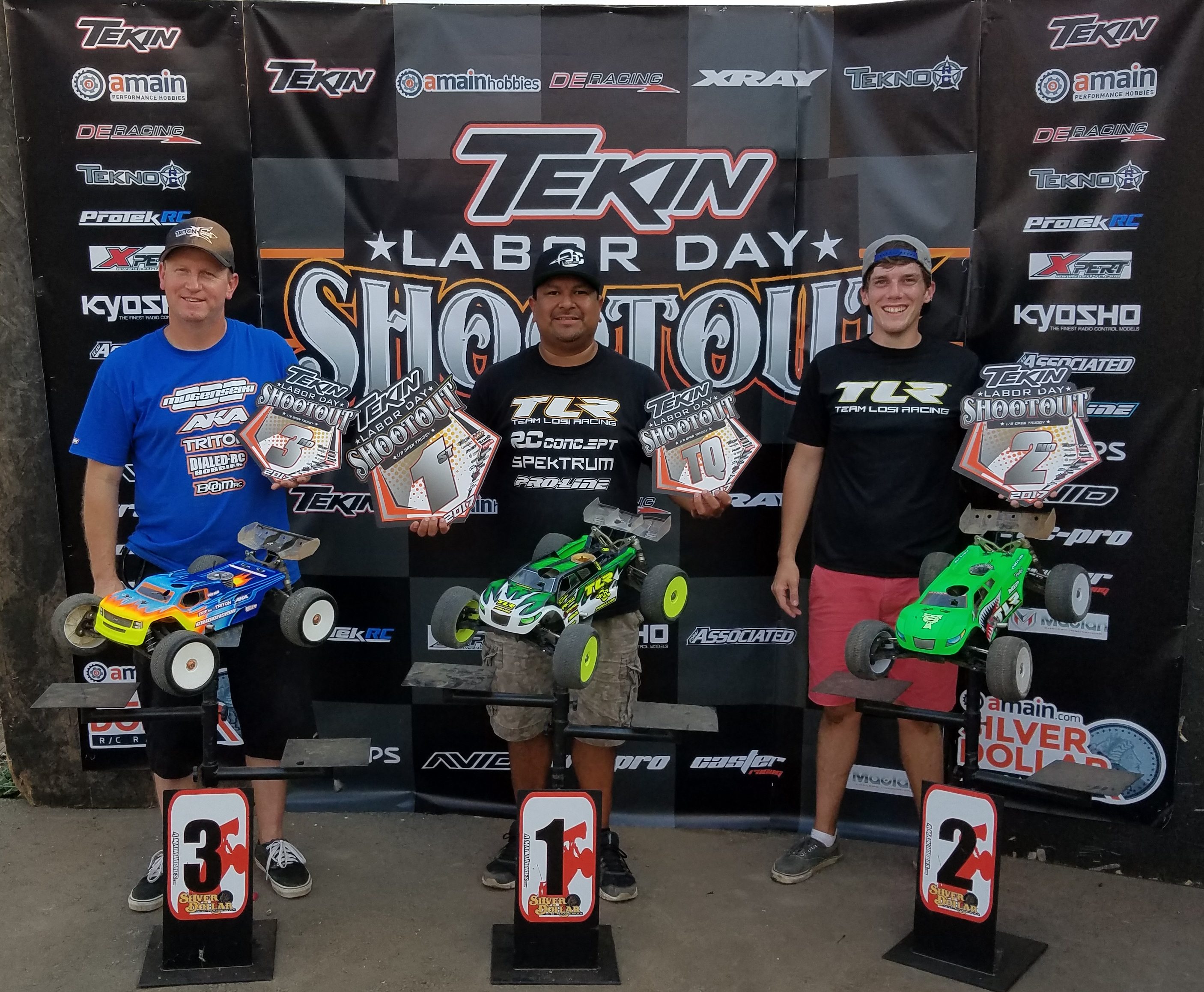 Stock 2wd  Buggy :
1st – Todd Pearson (TQ)
2nd – Chris Meeks
3rd – Ron Bickle
Video of main event can be found here:
A1: https://youtu.be/vgWoOWf5E9w
A2: https://youtu.be/1ljfnLTR8GI
Race Results can be found here:
A1: http://amainsdrc.liverc.com/results/?p=view_race_result&id=967440
A2: http://amainsdrc.liverc.com/results/?p=view_race_result&id=967441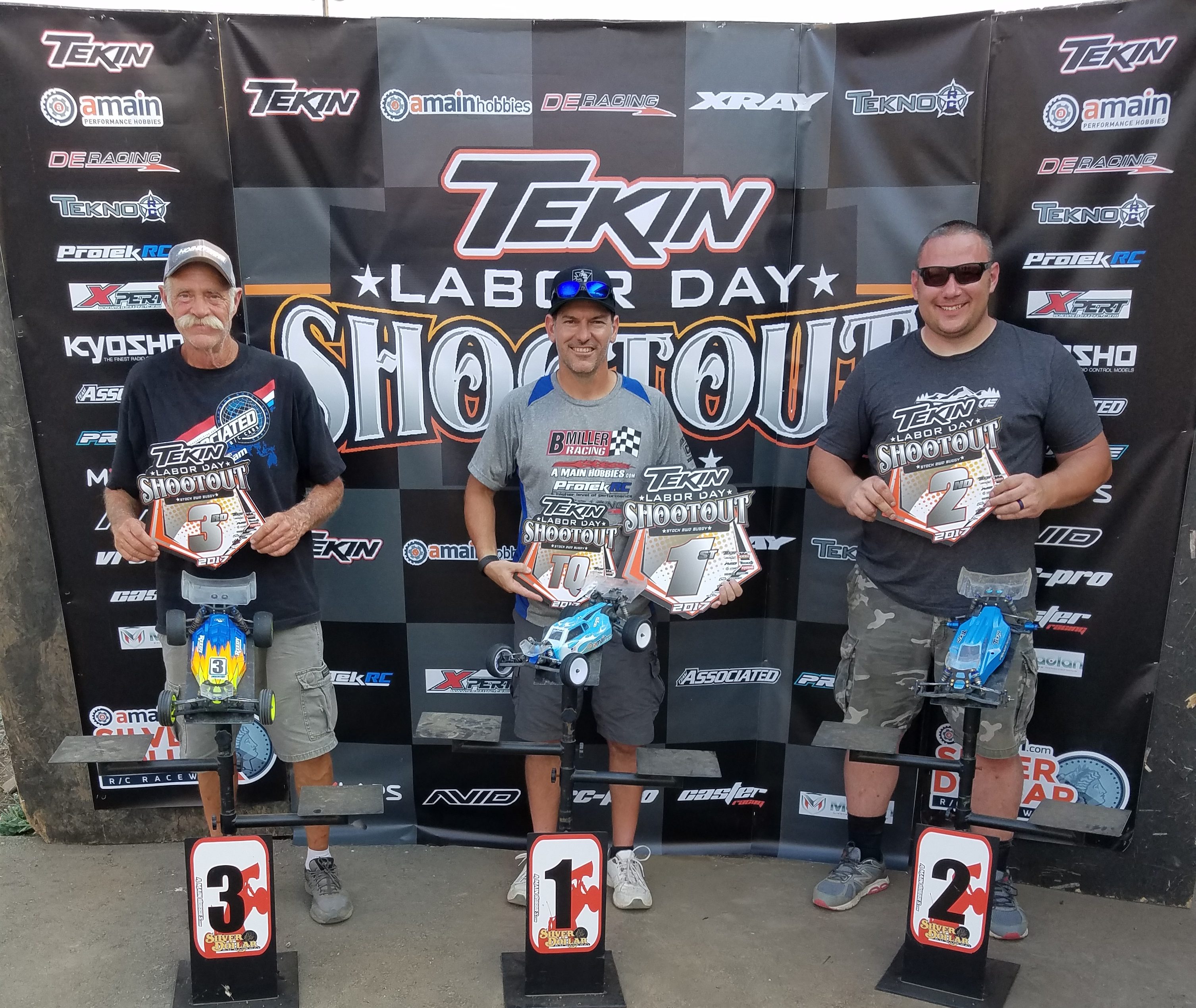 Pro 4 SCT :
1st – Kyle Linton (TQ)
Video of main event can be found here:
A1: https://youtu.be/pzFbdU6KdY4
A2: https://youtu.be/FzR9sPb3Z6w
Race Results can be found here:
A1: http://amainsdrc.liverc.com/results/?p=view_race_result&id=967438
A2: http://amainsdrc.liverc.com/results/?p=view_race_result&id=967439
E Buggy
1st – Mason Eppley (TQ)
2nd – Evan Carton
3rd – Randy Pikke
Video of main event can be found here:
A1: https://youtu.be/MIOMw73dxFs
A2: https://youtu.be/EjucR-lfRrU
Race Results can be found here:
A1: http://amainsdrc.liverc.com/results/?p=view_race_result&id=967445
A2: http://amainsdrc.liverc.com/results/?p=view_race_result&id=967446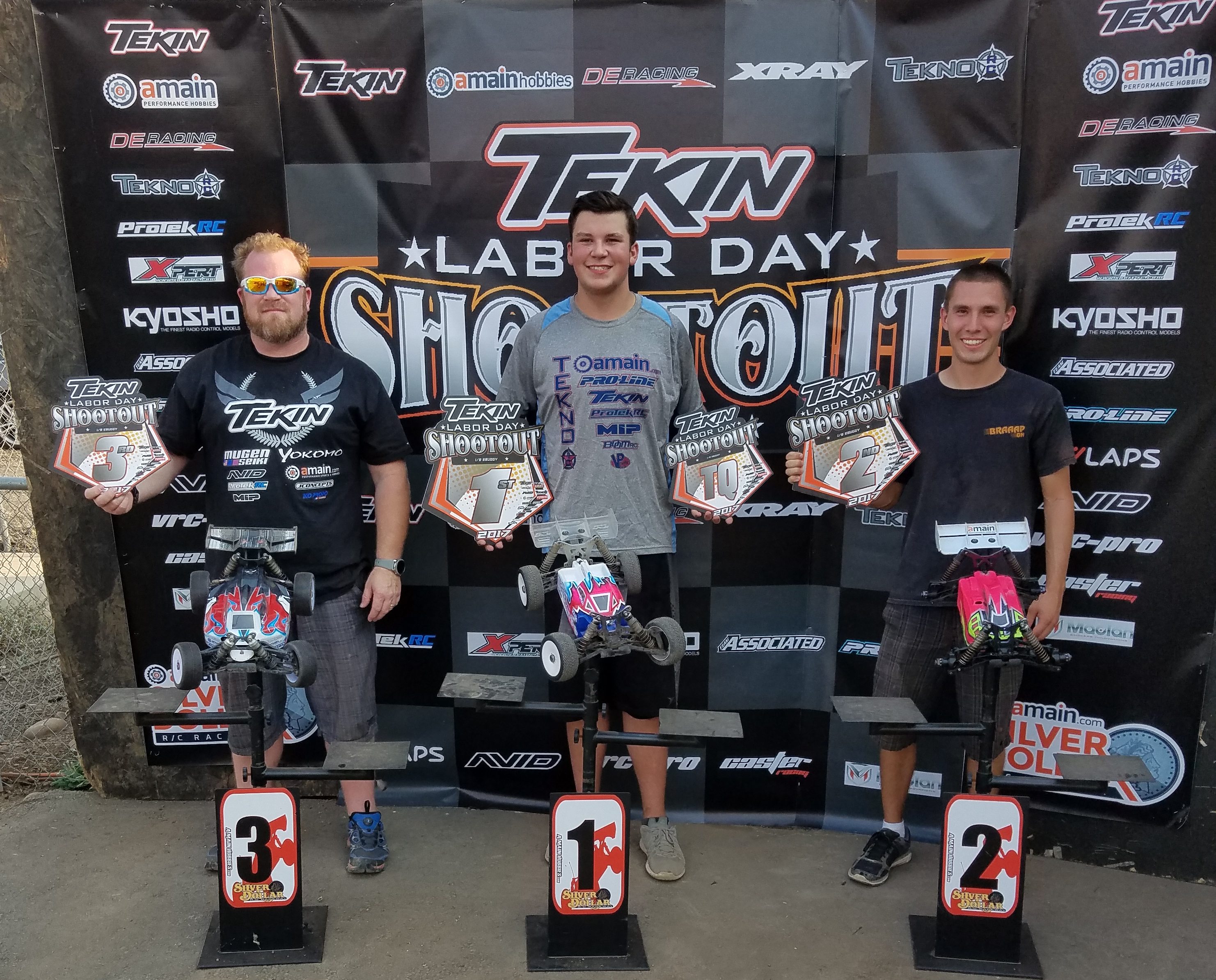 Open 2wd SCT:
1st – Chris Yancey (TQ)
2nd – David Constant
3rd – Trevor Page
Video of main event can be found here:
A1: https://youtu.be/pzFbdU6KdY4
A2: https://youtu.be/FzR9sPb3Z6w
Race Results can be found here:
A1: http://amainsdrc.liverc.com/results/?p=view_race_result&id=967438
A2: http://amainsdrc.liverc.com/results/?p=view_race_result&id=967439